Creperie Manoir Breton, a restaurant we liked in Paris
When I went to Paris, being in France for the first time, I wanted to taste their local dishes, especially some "crepes" – pancakes.
So, on our first night in Paris, we decided to go near the hotel and find a place to eat some dinner. We left Montparnasse Pullman hotel– and, on a rather rainy evening we managed to find relatively close to the hotel an inviting Creperie.
And that's how we got to Creperie Manoir Breton. Located on 18 Rue Odessa in Paris, this place serves pancakes in a variety of forms, as a desert or main dish, flamed or simple.
We went for pancakes as a main course, but I also tried a flamed one for desert. And both my husband and I were really pleased with our meal. Andrei went for something with bacon whereas I choose something with, of course, chicken. The crepes looked really good. I am sorry that I don't remember the courses names and as I wanted to provide you with a link to their site or at least a Facebook page… I came up empty handed, as they are not present on social media. They are only listed at Places on Facebook.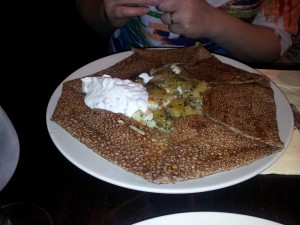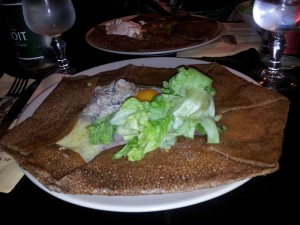 But, regardless of their rather non-existent online presence, I had a nice experience there. It was something like 8.5-10 euro per pancake – it varies if you choose a menu or other more sophisticated crepes. All in all, if in the area, they deserve a try. They also have a terrace outside.