Five not to miss attractions in Costa Rica
Costa Rica is a rather small country, but it is famous across the globe for some of its attractions with wonderful sights beautful water. Located in Central America, this country has not had an army since the year 1949 and, also interesting to know, Costa Rica shelters a 5% of the existing biodiversity in the entire world.
This country is perfect for a honeymoon, for a vacation or even to stay here for a longer period of time. I know a businessman from Romania who actually moved there (not personally, I see him on TV every now and then). It is clear therefore that there are many reasons to go to Costa Rica at least once in a life time. Moreover, this is an easily accessible country and that there are many tours available and wonderful places to visit – you can find out more on TravelExcellence.com. Just take in consideration the fact that, apparently, Costa Ricans usually arrive late, even 30 minutes late! at meetings (I found this piece of information on the website mentioned in the first paragraph and I thought it is worth mentioning it.) They are, however, peaceful people, they don't get angry in public so it is a very calm place to be in a vacation. But let's see five amazing attractions in Costa Rica.
Arenal Volcano National Park
It is not a surprise that this comes as the number one not to miss place in Costa Rica. It was recently placed number one by Huffington Post in an article focusing on "The 35 Most Amazing National Parks on Earth." They said it is a paradise, highlighting the amazing fact that you can actually see the lava pouring, a volcano "surrounded by hot springs, fauna-filled forests, and plenty of hidden waterfalls." Located in the northern region, the volcano and the park offer beautiful sights. Rainforest covers more than a third of the 30,000 acre national park and there are many interesting places and elements to discover in the park and forest.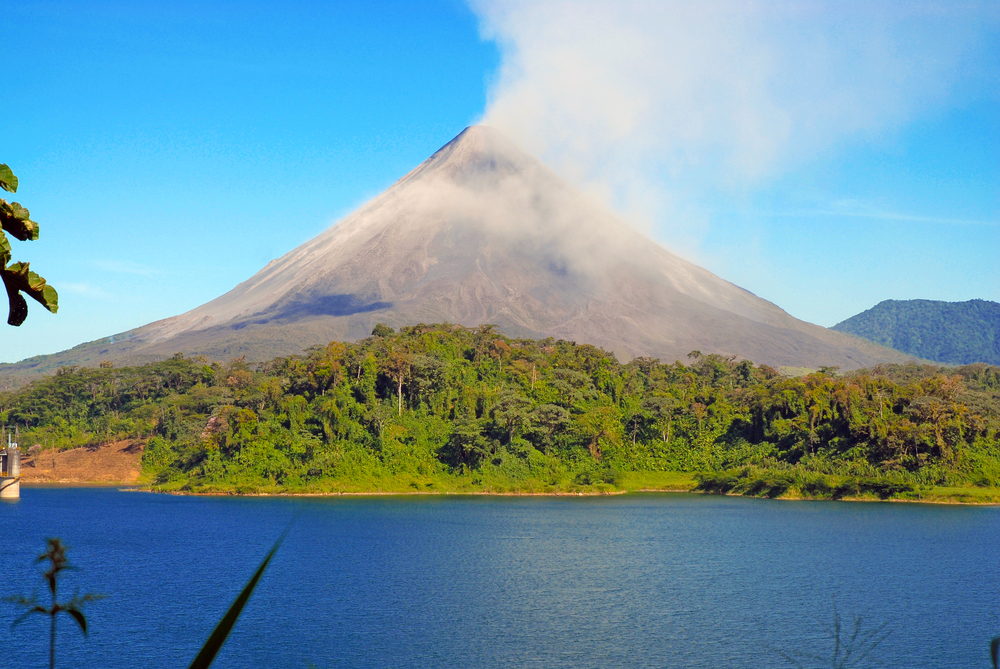 Arenal Volcano, Costa Rica, photo from Shutterstock
Manuel Antonio National Park (includes a beach)
Located south of Quepos on the Pacific Coast, the Manuel Antonio National Park is a charming combination of rain forest, coral reefs and beaches. This park, in terms of size, is Costa Rica's smallest park, but it shelters an important number of species. It offers beautiful tropical sights if you decide to hike through this park, and you can finish your travel relaxing on the beach or enjoying some water activities.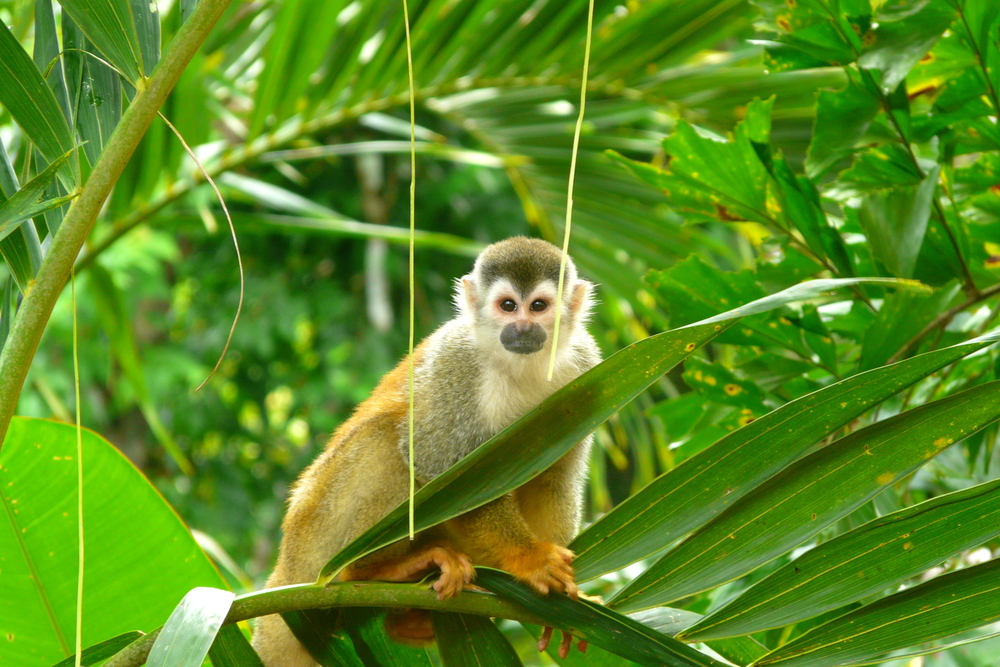 Squirrel Monkey in Manuel Antonio National Park, Costa Rica, photo from Shutterstock
Tortuguero National Park
Yes, many parks in this list, as Costa Rica is, like already mentioned, a beautiful country where you can find an impressive number of places to relax and enjoy nature, breathing fresh air and looking at local species of animals, smelling and admiring the plants and flowers. The Tortuguero National Park is well known as being the habitat and nesting ground of four of the eight species of marine turtles in the world. Moreover, it is home to the endangered West Indian manatee and it has many beautiful lagoons to enjoy in your tour. In this area you can also observe an extensive system of natural and man-made waterways used both for transportation and jungle exploration – Tortuguero Canals.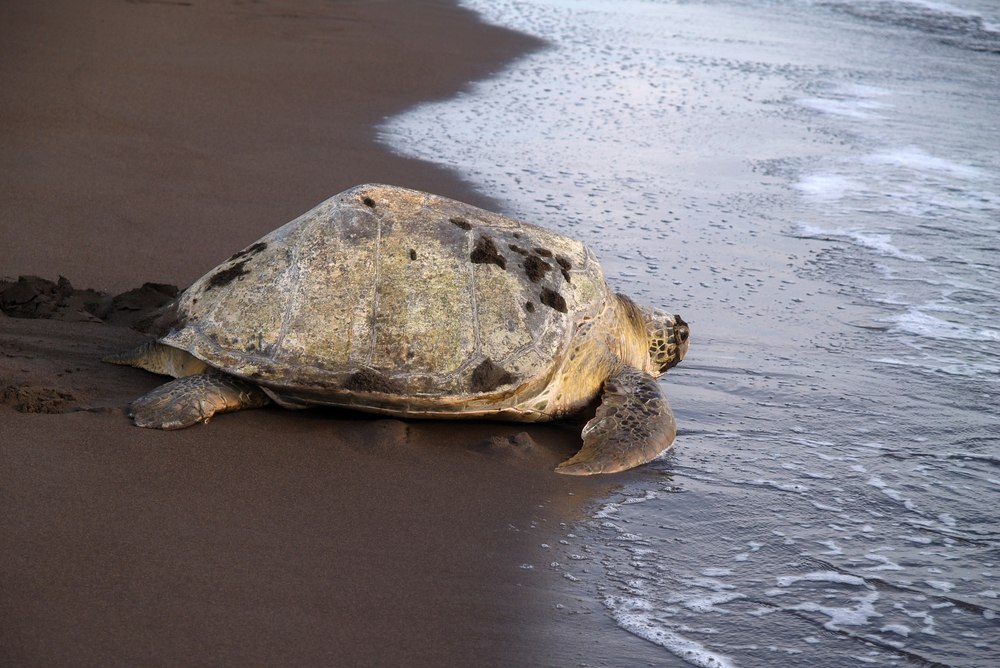 Sea turtle – Tortuguero National Park, Costa Rica, Photo from Shutterstock
Corcovado National Park
Considered by the National Geographic as "the most biologically intense place on Earth", the Corcovado National Park is a protected area in Costa Rica due to the fact that it has a unique combination of terrestrial and marine ecosystems and a wide variety of animal species as well, many of them in danger of extinction. Visitors are advised to make reservations in advance and, when walking in this park, to only take the authorized trails. As you can easily imagine, being a protected area, it is forbidden to hunt, harm or extract flora, fauna or other materials.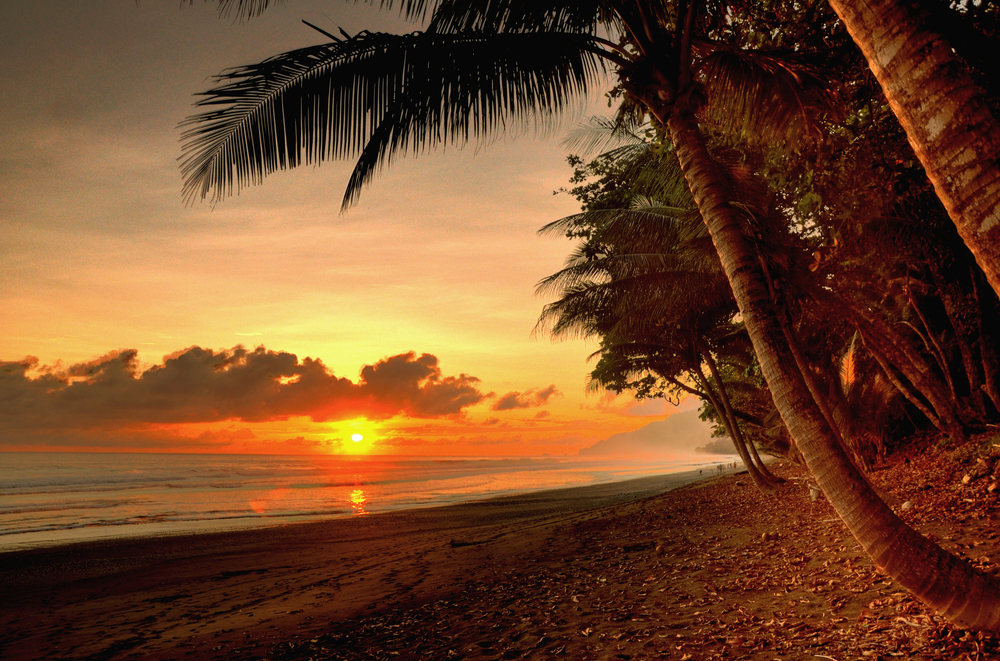 Sunset in a virgin beach of Corcovado National Park in Costa Rica, photo from Shutterstock
Jacó Beach
It seems that this is the most visited beach in Costa Rica. There are plenty of activities for any traveler, backpacker or tourist coming here. From surfing to sport fishing, from horseback riding to hiking and even kayaking. Of course, you can also just stay and relax in the sun. As a side note, I have to add that there are many other amazing and beautiful beaches in Cost Rica so anyone can find the perfect spot for them!