How to Make French Macarons – Famous Dish [VIDEOS]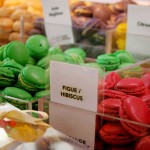 Well, if you go to France, you have to have some macarons. No, really. You have to.
They are really good.
My husband was just there and he brought me some. I loved them.
And the best part is I can make them in the comfort of my home too, as they are actually very easy to do.
I found two videos online qwih recipes and tutorials, so I'm presenting them to you and invite you to bake some macarons.
How to Make French Macarons
How to Make Dark Chocolate Macarons
Did you ever had macarons? Did you like them?