Street in Brasov with iconic building
If you are a frequent reader of this blog, you know that, when going to a new place, I like to combine famous tourist places with simple walks on the streets of that city. That's what I also did when I was in Brasov last month.
As I was browsing through my photos today, I noticed a photo of a street in Brasov, close to the old town's center. Many old buildings, centuries old ones!, can be seen while walking on this street, and you can also notice a building with a clock in the background.
I hope you'll like the photo! Click on it to see it in a much larger version!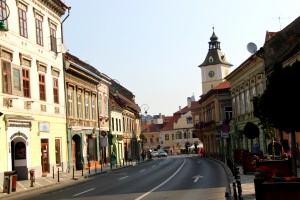 Do you like to just wander around when in a new city?