El último teatro (The Last Theatre)
Spain, November 2011. This time I am not going to talk to you about a city's geographical or historical personality, but I will go deeper, into its mentality and culture. Girona, a posh town of Catalonia, has much to offer in terms of artistic personality. I had the chance to attend a delightful amateur theatre play – Del ser al no ser, aquí hay un dilema – portraying the juicy humour, proud attitude and sharp spirit of the Catalans.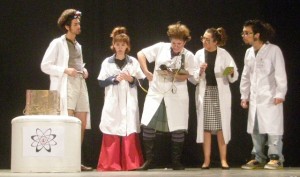 2300. The world is dominated by football and culture has disappeared long time ago. A group of strange scientists discover a box containing a message from the past encoded in an extinguished language – Catalan and graved on a strange VCR format. Opening the box and decoding the tape generates more than a Proust effect; it brings to life the best moments of the actors from Amater Company.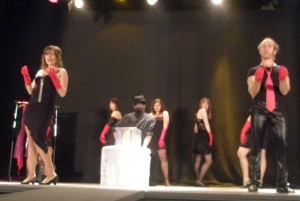 2011. The last theatre is about to close its doors forever. A rose, a glove, a small hammer, applauses and a tape – what do all these have in common? Passion for theatre has brought together incredibly different people, all sharing one dream: to leave a dramatic legacy for the future by burying their dearest memories into a time capsule. As the police are crumbling the theatre building, precious drama shards are traveling fast-forward in front of the spectators' eyes: a love story and Tu ets tot, an All That Jazz once-in-a-lifetime cabaret, Amelie's waltz, masks bringing the final eulogy to drama and an angel singing I Have a Dream.
2300. What will the group of scientists do with this message? ¿Quemar o mostrar? Will they show it or burn it? – this is the question.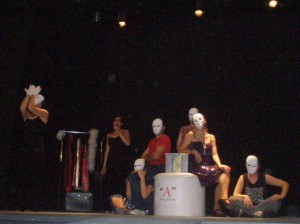 Directed by Jose Felix Mier, Del ser al no ser has originated as a manifesto against not having had the necessary funds allocated to Festival Internacional de Teatre Amateur de Girona (FITAG). Performed for the second time  in Llagostera, Catalonia, Spain, Del ser al no ser stars not less than 20 amateur actors who have given their best in a show of music, dance, lights and emotions. Though coordination is definitely a challenge, the director manages to enchant the public by intertwining three time momentums: the future, the actual past and the remembered past. The time frames succession leads to a dynamic play with breaking in rhythm and putting in the limelight several characters that all seem to be Catalans.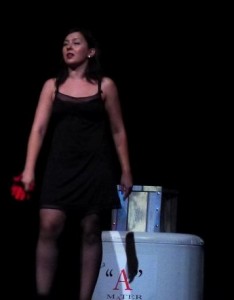 However, the play offers a surprise: Casandra Lungu, a Romanian actress to become truly shines in a genuine Catalan-language monologue from Chicago musical, transmitting the passionate rage of a woman having been deceived. Casandra also masters the dancing moments of a very sensual and feminine Chicago cabaret and of a gracious Amelie's waltz for which she has created a delicate choreography herself. Casandra is currently studying theatre at Instituto El Galliner in Girona and is well known to the Gironese public thanks to her role in the musical L'estacio final (FITAG, 2010). If you want to find more about Casandra you can read her theatre blog Immoral Beauty (in multiple languages) or follow her on Twitter @casandra_lungu.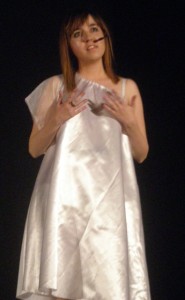 The play is definitely worth seeing, as it can be considered a success recipe combining effort, talent and dedication. And I am not saying it in vain. In the spotlight of the last repetitions, real life confirms the message of the play: passion for theatre brings together amateurs and actors to become freely giving away from their spare time to make an unforgettable show.
Congratulations to:
Director: Jose Felix Mier
Script: Susanna Romero, Ester Soms, Jose Felix Mier
Light and sound design: Marc Garcia, Jose Felix Mier
Cast:
Carla Casadevall
Carmina Rabassedas
Casandra Lungu
Cristina Caceres
Elvira Bello
Ester Soms
Isabel Aymerich
Joana Marti
Jordi Castello
Josep Ma Masferrer
Luis Rodriguez
M. Carme Casassas
Manel Teixidor
M. Helena Tolosa
M. Rosa Cullell
Marta Juan
Marta Melendez
Merce Bartolich
Oscar Ramiro
Rosa M. Oliveres
Sonia Esteba
Susanna Romero
And hope to see all of you soon in a new play!