How to raise money for your vacation without any trouble! Tip of the day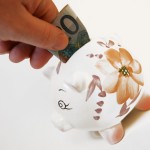 I know someone who is always complaining that she doesn't have the necessary money to goin her dream vacation. In fact, she is complaining about that each year, and believe me, she want's to go to many places.
Funny enough, she doesn't choose expensive destinations. And another important element: she seems to be wasting money daily! She buys things she doesn't need – and she is the one saying that. She finds herself with money, and it seems she can't help spending them.
I asked her what is the budget for her vacation. And she said that it is round 700 euros with all expenses.
And then it hit me! A very simple advice, a trick that will allow her to raise the money she needs with no effort at all.
So I shared my idea. To save 2 euros daily for a year. That would mean raising 730 euros in a year – and that would mean the vacation budget on a spot! She said that it is a great idea.
Whether she will commit to this idea or not, it is her choice. However, raising 1 or 2 (maybe even 4 euros) per day for a year is not very-very hard to do, especially when you have a clear purpose – a dream vacation – and when in fact you are not living on a very tight budget. If you see in your daily expenses – or monthly – some amounts that could have been saved, than maybe it's time to change your shopping habit and prioritize your expenses. If one truly wants to go in a vacation with such an accessible budget, why not save money for that?
You can open a new account and simply put the money there. You can make a monthly payment – when you cash your salary – or a daily payment. You can even get interest from the bank 😉 so you'll earn an extra buck. You can simply save the money cash, at home, in an envelope – and there will be a great feeling seeing the amount increasing daily. There are many solutions – it's only a matter of desire and commitment!