Facebook and Google+ Are Most Used Networks for Research and to Plan Trips, Study Reveals
When travelling it is important to do some research. Documenting yourself on the new place you are visiting is probably the most important thing you can do in order to assure you will have the least unpleasant surprises as possible.  Over 15,000 travelers worldwide in January 2013 were surveyed by TripAdvisor in January 2013, and the "TripBarometer" revealed that 76% of the respondents use Facebook to document and plan their trip, 40% use Google+ and 21% use Twitter for the same purposes.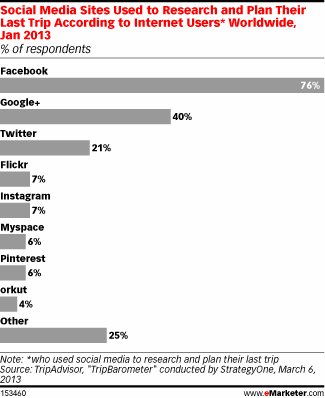 Other sources for information are Flickr (only 7% though), Instagram (7%), MySpace (6%), Pinterest (6%), orkut (4%) and other (25%).
So it looks like Facebook is consolidating its number one position on a number of domains, being the most important social media travelers use for their research. Google+ the second most important social network, but there is an important difference in percentages, as it is between this network and Twitter, and the top 3 networks and the rest of the social networks included in the list.
Facebook is the most useful and trustworthy social network travelers queried mentioned. Google+ was the second most useful and trustworthy social network when it comes to research and plan of a trip. There is however an important difference when it comes to percentages in that the usefulness and trustworthiness of social networks is concerned as the graph included below shows.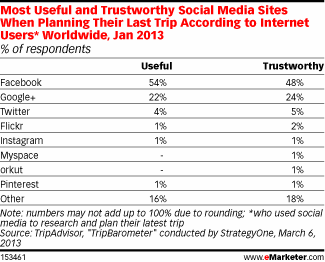 The article on emarketer presents the countries where Google+ had the most active users in the second quarter of 2012.
I admit I don't find the conclusions of the survey surprising. Facebook and Google+ are he most used social netwoks generally, and when it comes to content with tips, recommendations etc. they are indeed the most likely social networks to be accessed.
I also admit that for me, when researching and planning a trip, I choose articles on various news sites and travel blogs for inspiration and tips, and don't use social networks for this purpose. How about you: where do you take your information?