Terra Park, the Amusement Park in Bucharest Romania: my experience
I love amusement parks, I admit. I've been to Prater in Vienna and enjoyed every minute of the experience, especially the giant ferris wheel. I was really happy to hear that such an amusement park will open in Bucharest. Time passed by, the park open, but I was pregnant, then had the little baby, then my knee surgery… You get the picture: I didn't had the time to go to Terra Park. So this April I really wanted to go, especially since I don't like crowded places, and we managed to have some time on a Saturday.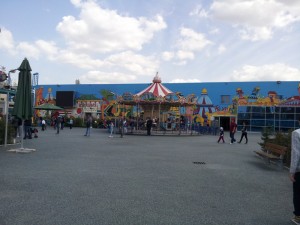 It was sunny. We took our son, Eric, hoping there will be some activities for him too.
We bought the tickets – actually, you buy points on a card, point you then use to access various attractions. We only took a card for all of us, chose to buy 80 points for 70 lei (a point is 1 leu, starting 80 points you get some for free). 70 lei equals 16.28 euros at 4.3 lei for 1 euro. If you need more points, you can always add some.
As we entered the park there were some people – but it was still early – before noon – and still early spring – so not so crowdy. Just as I like it.
I saw some roller-coaster (there is even one with water for hot summer days), several adrenaline-rush generator attractions, a carrousel and some kids attractions inside. However, aside from an attraction with cars where the kid has to be between 80 cm and 150 cm, all of them were for kids at least 100 cm tall. So no attractions for Eric.
But I plan to use those points – they are valid 1 or 2 years – so my husband and I will go some other time and try some of the park's attractions.
It is not big as Prater is, but it has some interesting activities for kids and adults alike. Terra Park is indeed a place you would like to spend few hours at least once when in Bucharest, especially since there is no other such park in Romania's capital (yet, at least).
Below are more photos – keep in mind that there aren't many people due to the time of the year. During summer – and even now – there are significant more people there. Also, the photos DON'T include all the attractions you will find in the park so that you will have some surprises left 😉
You can access the official site for Terra Park – but, unfortunately, you need to use Google translate or similar services as at least now there is no English version.