Maaallorcaaa, feel the good vibration, oh oh oh…
Guest post by Ela Krawczykowska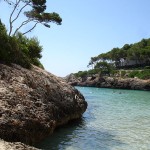 There are many islands in the Mediterranean Sea – Menorca, Ibiza, Formentera, Malta… However the island of Mallorca is probably the most popular tourist destination and is known for it's beautiful beaches and amazing nightlife.
Mallorca is the largest island of Spain. It belongs to a group of islands called Balearic Islands. The largest city and the capital is Palma de Mallorca, or simply Palma. Mallorca has amazing hot summers with nice and refreshing sea breezes.
Catalan is widely spoken in the country, but Spanish is the second official language. Most Majorcans speak English or German and there are different dialects of Mallorqui language in every area of the island.
The popularity of Mallorca as a tourist destination has been growing since the 1950s. According to statistics, in 2010 more than six million people visited this charming island. With plenty of luxurious hotels, Mallorca's economy is mostly dependent on tourism.
Palma should definitely be the first stop for anyone visiting Mallorca. Near the beautiful sea front called Paseo Maritimo, there is a famous Gothic church called Palma Cathedral (most commonly known as La Seu). The most popular place to see, however, is the Bay of Palma with a huge harbour and sandy beaches.
The main party district of the capital is Paseo Martimo, with Abraxas and Tito's clubs, which are probably the most popular venues in Mallorca. Numerous gay-friendly bars can be found near Plaza Gomila.
The most beautiful, rather breath-taking places, can be found in the northwest coast, which is dominated by the Serra de Tramuntana mountains. The best beaches on the other hand, are on the north and east coasts. There are also a couple of nice beaches along the south coast.
Summer is approaching and there are already hundreds of great offers to go to Mallorca. And as all of the islands in the Mediterranean Sea are very popular – the sooner you book your holiday, the better!
For more information on Mallorca visit My Destination Mallorca
About Ela
Ela is a London-based freelance journalist from Poland. She loves learning languages, travelling, music and exploring different cultures