To smoke or not to smoke outdoor: the New York situation. What's next?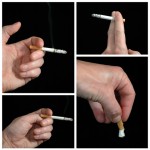 Outdoor smoking ban comes into effect in New York. As a result, "smokers can no longer legally light up in the city's public parks, beaches and promenades. Pedestrian plazas are also no smoking zones, including the ones in Times Square and Herald Square". But, as we find out from the same news, many smokers said that they will ignore this ban, despite the fact that they might receive a $50 fine.
For smokers many countries imposed through the years different restriction. However, these restrictions were often imposed not against the smokers, but to help protect the non smokers. There are still many places in the world that are a smoking paradise. Romania is still one, for instance. One can still smoke, but for instance if you are a non-smoker you have trouble finding a good restaurant with a no smoking area.
Also, as a non-smoker if you simply take a walk, there are big chances to smoke passively – from the people going in the same direction. And it's a truly great pleasure to have the smoke hitting you, without any possibility of avoiding it, when you have a cold for instance. Your nose and throat will burn you like hell – and here you were outdoors, going somewhere or simply enjoying a walk in the park.
Everyone has rights. Freedom is also for everyone. But wasn't a definition of freedom stipulating that one's acts should not affect in a bad way other people?
I must admit that I am all for protecting the non-smokers, for allowing me to go out and breathe the fresh air and not one's smoke. I also agree that smokers should be able to have some places – including coffee houses or restaurants – where they are able to smoke. But there should be an equilibrium, a balance. A smoker can protest by smoking despite the threat of a fine. A smoker has all the weapons. But what can a non-smoker do? This is why I guess some restrictions for smokers are necessary.
I'm curious: what do you think about this situation?, about the smoking ban in New York?