Tips for attending Carnival in Grenada
Would you like to attend Carnival in Grenada? In that case, you should be prepared so this article offers you the best tips for attending Carnival in Grenada.
Discover everything you need to know about the Grenada Carnival – included in this article are J'ouvert Morning, Night Mas, and Pretty Mas.
Find out when is Carnival in Grenada, preparation for the Grenada Carnival, and everything you need to know about the three events part of Carnival in Grenada.
This comprehensive guide to Carnival in Grenada is presented by Aaron from The Dharma Trails. Use these Grenada Carnival tips and tricks shared if you plan to attend this event.
Be prepared and know everything there is to know about this carnival. Consider this article your Grenada Carnival planning guide as it includes everything you need to know about the Carribean Carnival festival.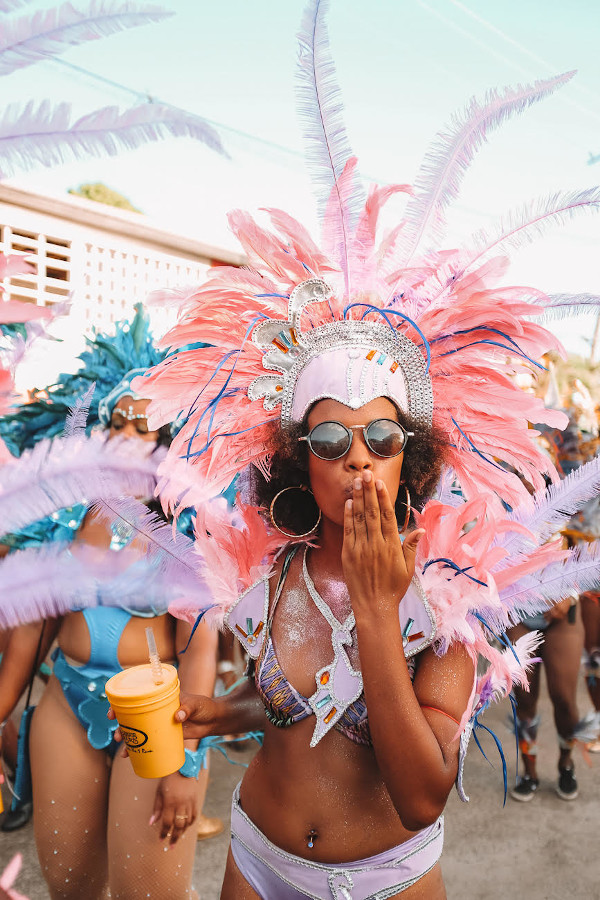 Tips for attending Carnival in Grenada
Carnival in Grenada is an experience that everyone should try at least once. The colours, the music, and the people make it one of the Caribbean's most exciting events. With so many events and different types of parties, there are a few things you should know before you go to Grenada Carnival.
Where is Grenada?
Grenada is one of the most southern Caribbean Islands. It is often referred to as "The Spice Island" due to its abundance of spices (famously for Nutmeg & Cocoa).
Grenada Carnival is often referred to as Grenada SpiceMas (mas comes from masquerade).
Each year Grenada hosts the Grenada Chocolate Festival, which is attended by an international crowd consisting of chocolate makers, connoisseurs, and fans.
The island is also home to the "World's Best Beach" as voted by Conde Nast Traveller in July 2019.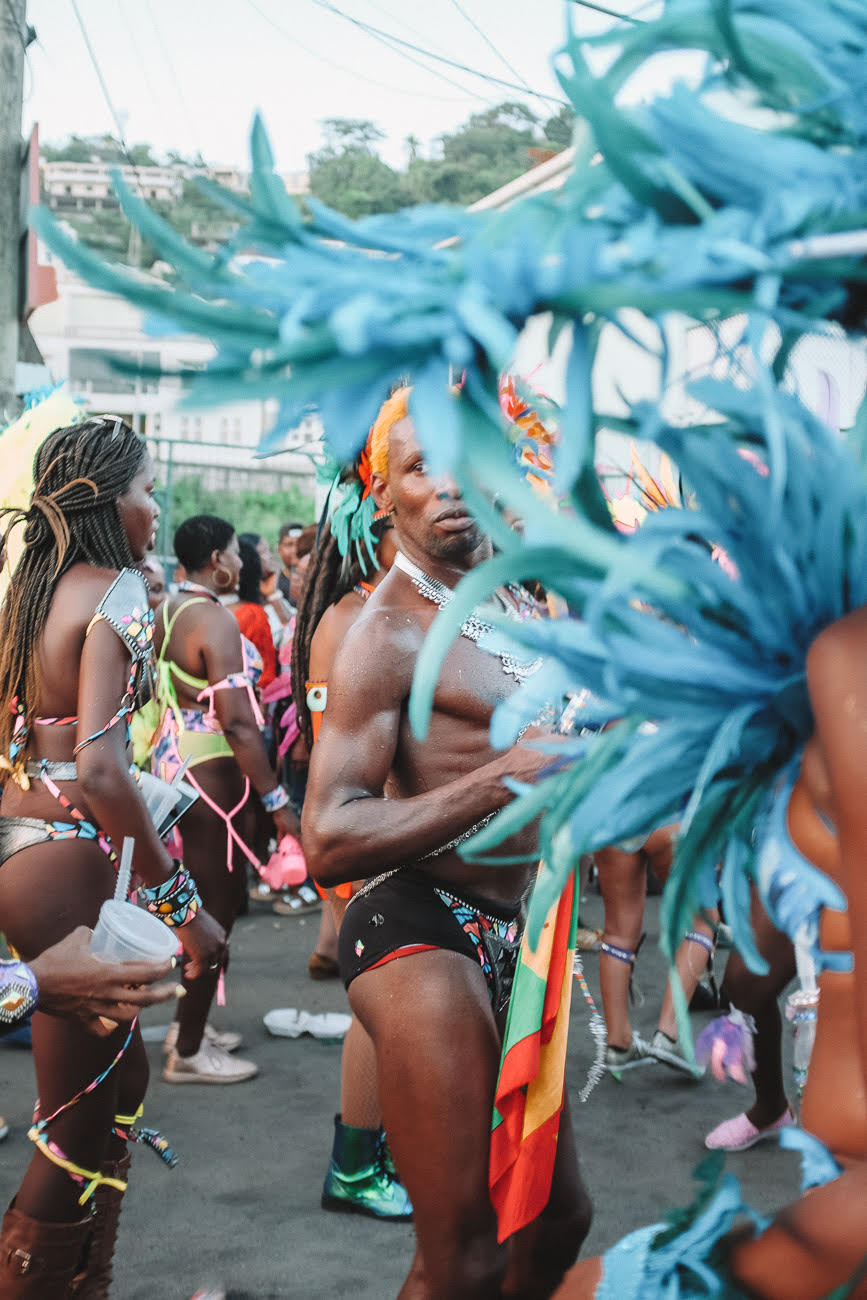 When is Carnival in Grenada?
The three main events of Carnival in Grenada are:
J'ouvert Morning (The second Monday of August)
Monday Night Mas (Same day as above)
Pretty Mas (The following day/ second Tuesday of August)
While these events are fixed by the days of the week, the actual dates will vary each year.
Grenada Carnival 2020 dates:
The Grenada Carnival starts August 5th, 2020 until August 12th, 2020.
Prepare for Grenada Spicemas – August 10th!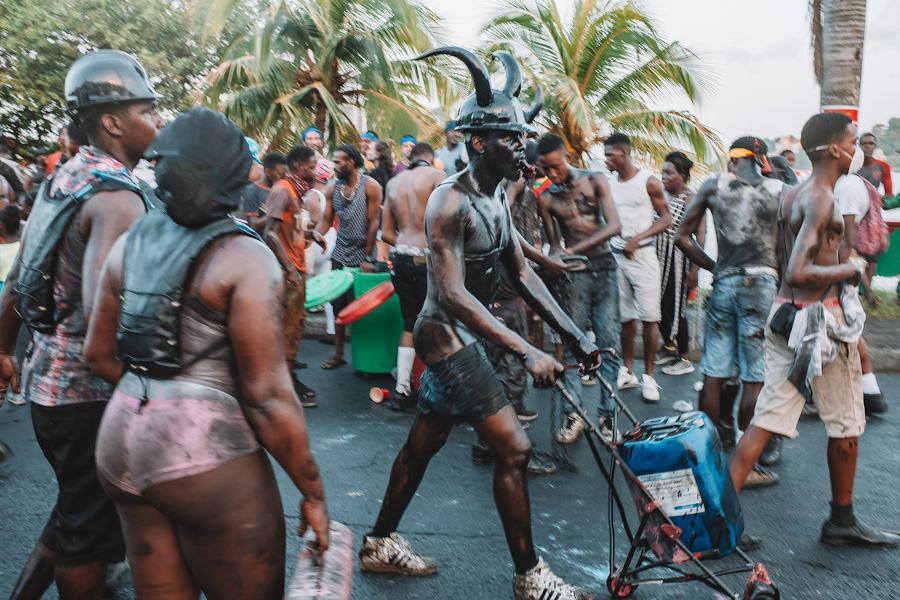 A Two Week Lead Up
While the main, official events are actually over two days, there is a full two weeks of celebrations in the lead up to Grenada Carnival.
Unofficially there are celebrations for the whole month leading up to carnival. However, some of the main organised events include:
Jab Jab Fest (The Jab Jab character dress up)
Children's Carnival Frolic
Beach Fest
National Carinal Queen Show
Pure White (everyone wearing white)
Soca Monarch Finals (live bands completion)
Carnival History in Grenada
The word Carnival comes from the Latin phrase "farewell to meat". And was originally celebrated the night before Lent. It's said that the French and Romans indulged in meat the night before Lent with wild celebrations (leaving their slaves out of the celebration).
The slaves over time developed their own means of celebration with whatever they had.
As the slave trade made its way through the Caribbean, these traditions followed.
The Jab Jab
Unique to Grenada and Trinidad (it's believed to have originated in Grenada) is the Jab Jab. This character is a living representation of the devil. The original intention was to make a mockery of the European's "fancy" carnival parties.
Armed with horned helmets, chains and sometimes bleeding animal parts from their mouth, the Jab Jab has become a symbol of both solidarity and respect for those that lived during the dark days of slavery.
Originally the Jab Jab would coat themselves in molasses. But over the years the traditions have changed to motor oil. Typically, now they use motor oil.
Those choosing to "play" the Jab Jab are drenched in motor oil from head to toe. Most carry backup to keep reapplying through the event.
Like all things, people treat the dress/event differently. There are those who use the costume as a way to express themselves and have fun, while others take the tradition very seriously and use it as a way to shock/scare other people at the events, rarely smiling.
Let's see how to survive Grenada Carnival!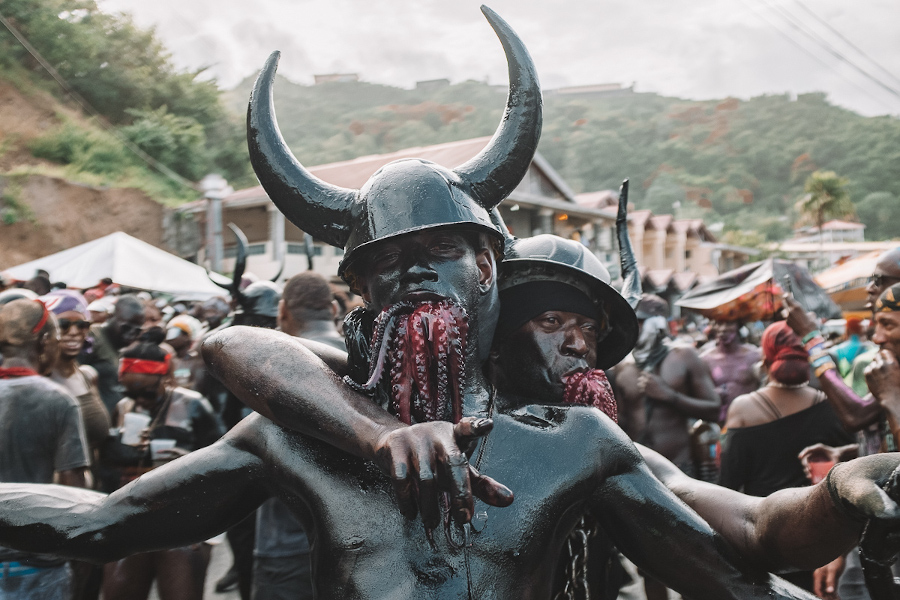 J'ouvert Morning (The second Monday of August)
What is J'ouvert Morning?
Jópuvert Morning is where the Jab Jabs really come alive at the Grenada Festival. It is the wildest of all the carnival events. J'ouvert morning is a combination of oil, paint, music, alcohol, and dancing.
The party officially starts around 3 AM and goes through till around Midday.
This is where Jab Jabs mix in with the crowd of locals and tourists in a messy (but fun) party.
Several big tucks with huge speaker systems slowly make their way along the waterfront while thousands of people follow alongside, dancing and drinking as the sun comes up.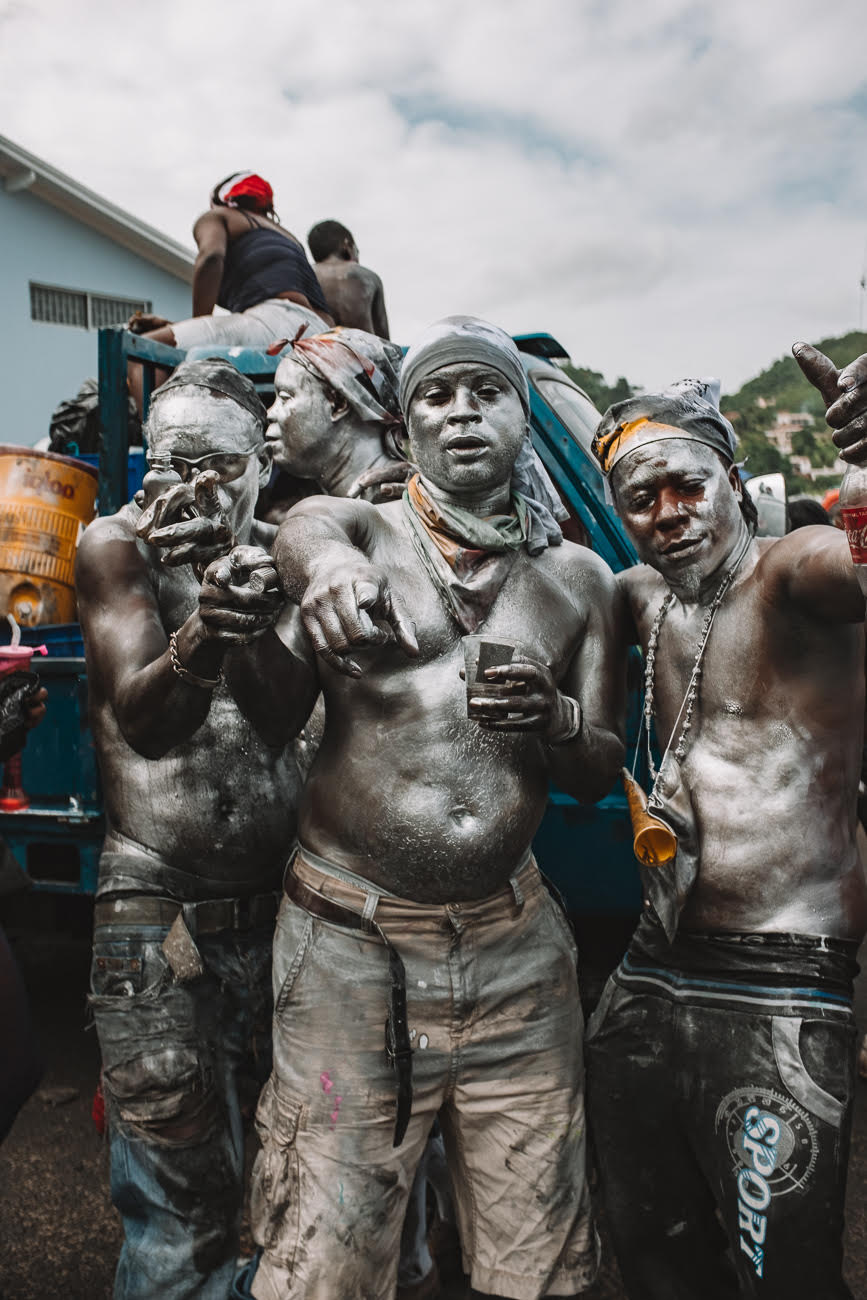 Where is it?
J'ouvert Morning starts at Port Luis and makes its way along the Carnage (waterfront) in St Georges.
What to expect at J'ouvert Morning
As this is an article with everything you need to know before attending Carnival in Grenada, you need to know that J'ouvert Morning is loud, messy and wild.
Even if you don't plan to get motor oil on you, you will. And probably paint, mud and whatever else is flying through the air!
The huge speaker systems are pumping music non-stop all morning and are loud enough to get your ears ringing. You can always hang back from the trucks.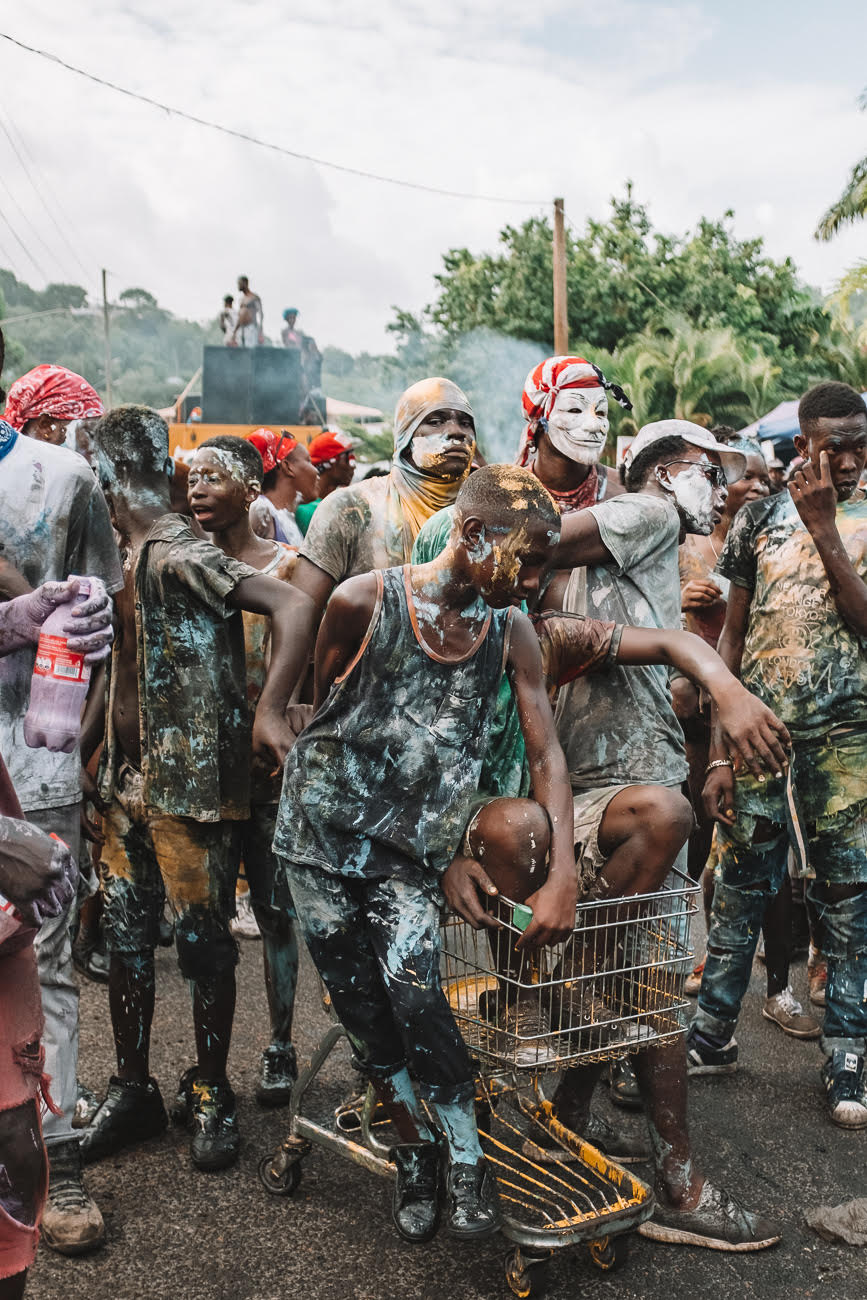 The crowd is generally not wearing much. There is a lot of exposed body, and sexualised dancing.
The general mood of the party is one of excitement and fun.
Another important note on this Grenada Carnival planning guide is that there is oil and paint flying everywhere, bodies knocking into each other and alcohol splashing through the air.
Overall, it is an exciting event that you can get involved in as much as you want (there are quite a few people that stand back on the sidelines and watch the action unfold).
It is the biggest party on the island and people really let loose. If you want to see a Grenada party in action, this is the one!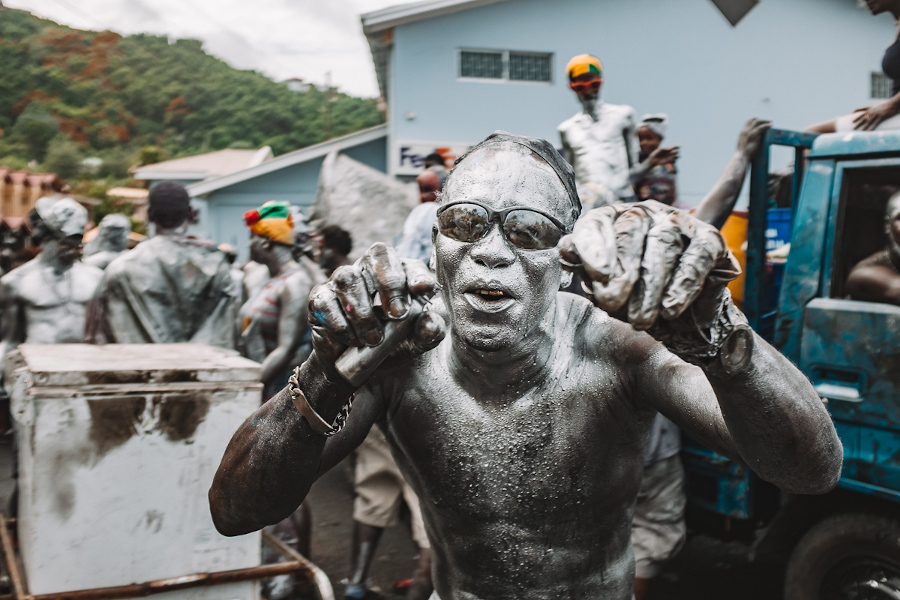 What to wear at J'ouvert Morning
You're going to get dirty, oily and maybe even a little rained on. So, wear something that you either were planning to throw out or don't mind throwing out once it's done.
Trying to get motor oil out of a soaked shirt is nearly impossible.
You don't need to cover up much as most of the partying happens in the dark and you will most likely be covered in black oil/paint anyway!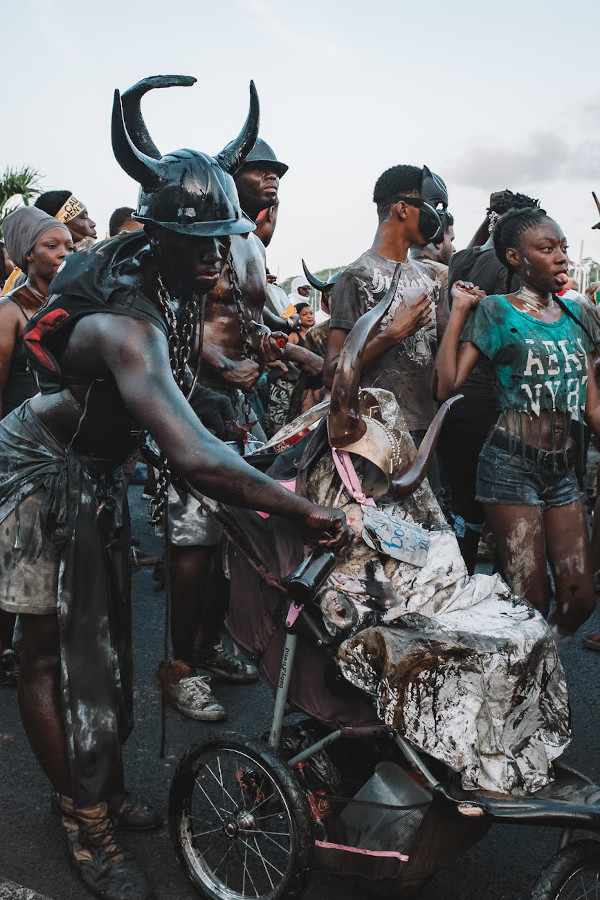 Tips for J'ouvert Morning:
As I've mentioned that you need to be prepared for this Carribean festival, you need to know that while motor oil is typically used you can opt for paint.
The different sound trucks that go through the party usually are selling different colour paints off the back for around 5EC.
For those eco travel minded, you can opt for charcoal & coconut oil! Either purchase crushed charcoal (or make some yourself) and simply mix it in a bowl with coconut oil. The thick, black paste actually mimics the look of the motor oil and is much better for your skin and the environment when you wash it off!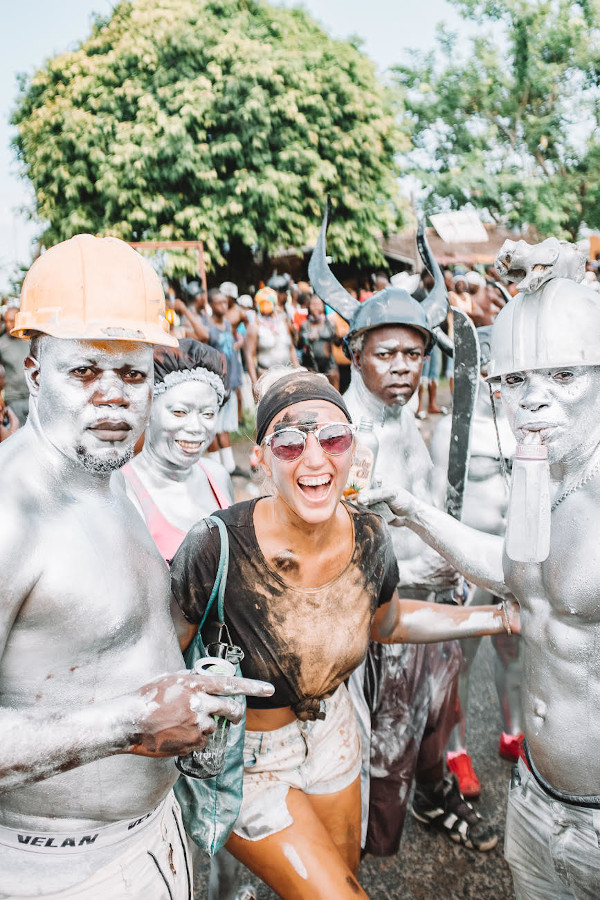 Monday Night Mas (The second Monday of August)
What is Monday Night Mas?
A street party with live music and thousands of flashing lights!
Monday night mass is a huge gathering of people and music in one of the year's biggest music festivals, so be prepared for the Grenada Carnival 2020.
Where is Monday Night Mas
St Georges Carenage
What to expect
Get ready for a wild night of flashing lights and loud music! SoCa (Soul Calypso) is the music of choice and the bands go on all night long!
With mostly local artists, there are often other SoCa artists from Trinidad or other international acts.
What to wear on Monday Night Mas
There are party packages that you can purchase for the event. These include a t-shirt, strobe light sticks, and hats. The packages also come with some drinks depending on which band you pick.
Tips for Monday Night Mas
It's best to get a sleep in after the J'ouvert morning madness.
The Monday Night Mass at this Carribean Carnival doesn't really kick off until around 9 PM, so your best bet is to recover as much as possible from the early morning of J'ouvert with an afternoon nap.
Pretty Mas (Second Tuesday of August)
What is Pretty Mas?
This is your more "traditional' looking carnival where colourful, feather headpieces and wings line the streets for an afternoon of music and dancing.
Pretty Mas is a party, however not quite like the others mentioned above.
There are several different bands that you can pay to partake in. This includes the costumes (each band has different colours and themes), drinks (each band has its own bar on the truck).
For the people who don't join one of the bands or "play", you stand along the sidewalk and cheer and shout as the colourful costumes and bands roll past.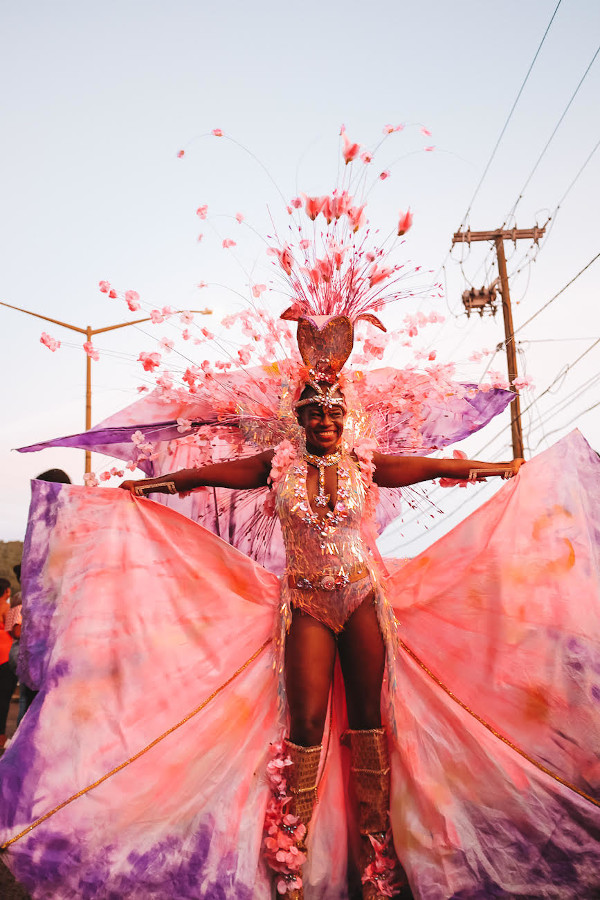 Where is Pretty Mas
The first bands start at Port Luis and make their way along the Carenage into St Georges.
What to expect at Pretty Mas
When preparing for Carnival in Grenada, you should know that Pretty Mas starts around 1 PM and is very hot in the middle of the day. If you're not partaking in the bands it's best to find a cool spot under a tree.
The bands move quite slowly and can take around 3 hours for the total parade to pass by a single spot.
It gives you plenty of time to admire the amazing Grenada Carnival costumes and colours of the event.
While those in costume are officially in the parade and everyone else is "watching", it is fairly normal for the crowd to occasionally jump into the mix and have a dance/photo with those in costume.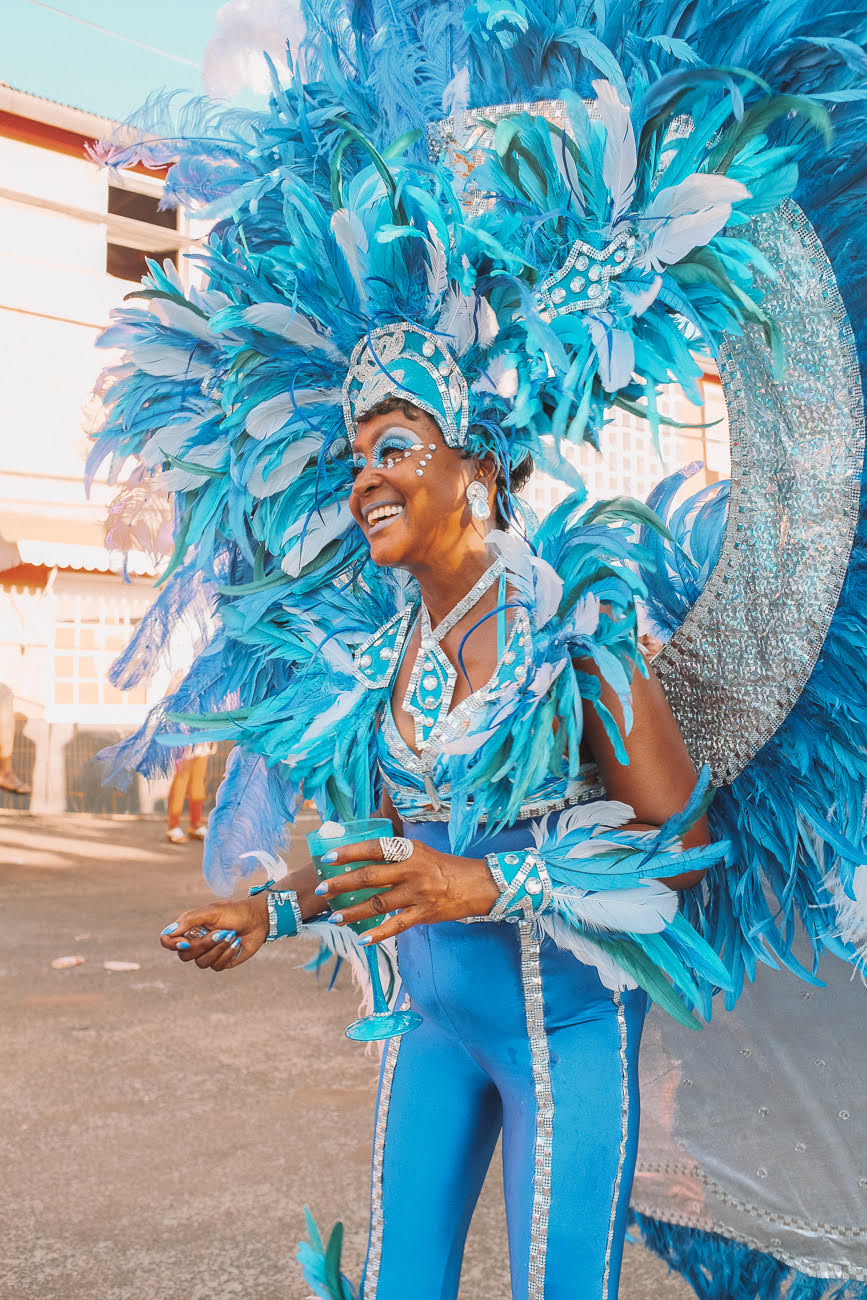 What to wear at Pretty Mas
It is hot and sunny throughout the day so if you are on the side of the road watching be sure to have sun protection.
If you are planning to "play" in the costumes, there are a few to choose from Xstacy is one of the biggest bands. The package deal (costume and drinks for the event) typically cost around USD$600.
Tips for Pretty Mas
The Pretty Mas at Carnival in Grenada generally starts off quite slow (in the heat of the day) and the crowd/costumed dancers normally get livelier as the sun drops and the drinking ramps up.
A good time to get to the event is around 4 PM and stay till the sun goes down.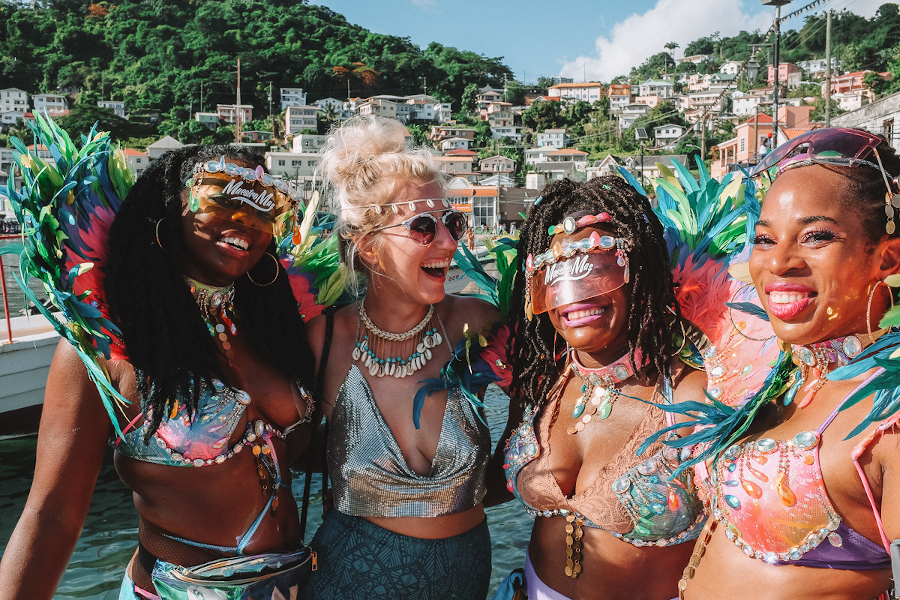 Carnival in Grenada Summary
It is the biggest event of the year in Grenada and attracts tourists from other Caribbean islands and around the world.
It is an intense few days but for those looking for a serious Caribbean party, this is the one for you.
Author Bio
Aaron is from The Dharma Trails a platform to inspire eco travel and sustainable living. He and his partner have been based in the Caribbean for the last 2 years and are currently running a nation-wide clean-up campaign for the island of Grenada. Follow him on Instagram, Facebook, and Pinterest.