Experience Las Vegas with a twist
What happens in Vegas, Stays in Vegas – One of the most EPIC lines said about this famous and infamous tourist destination. The first thing that strikes the head when it comes to Vegas is casinos and you damn sure know what the other is. But fact of the matter being that Vegas is not just about the Casinos, baby!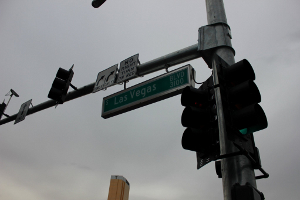 Humungous number of people go to vacation in Las Vegas but how many have experienced the city beyond the Casinos and full range of shining lights. So, we present to you Las Vegas which is colorful even beyond the slots and the poker tables.
1. Dinner in the Sky – This is for the people who are seekers for adventure. However, if you are acrophobic, you might as well skip this! This is an exceptional experience of eating your meal hanging in the sky. You are made to sit in comfy seats with full protection like that of a race car and then the wire is suspended to a high tension wire and raised 150 ft above the surface. Sounds intriguing and exciting but surely will be hell of an adventure.
2. Roller Coaster Ride – Another one for adrenaline junkies is the gravity defying Roller Coaster ride at Adventuredome in Vegas called the El Loco. It's only the 2nd of its kind in the country and therefore shouldn't be missed. There's also the world's largest indoor double loop Corkscrew Roller Coaster which is the main attraction of the park. You will find such adventure parks all over the strip but this one being a unique experience should not be missed.
3. Hot Air Balloon Ride – Nevada is a gorgeous place with picturesque scenery and magnificent sunsets. Take a hot air balloon ride to experience this extravaganza with utmost comfort and serenity. You can hire a hot air balloon for the same purpose and if you're wondering why a hot air balloon, then dig this – you must've seen remarkable sunset with your eyes but this experience will surpass them all. The colors of sunset which you will experience with a hot air balloon ride would stay with you forever.
4. CSI Experience at the MGM Grand – This is in the true sense a real time awesome experience. We see and watch so many crime series and read crime thrillers but here's your chance to experience the real deal. MGM Grand Las Vegas offers you an opportunity to become CSI agent exactly like the TV show with 3 murders, 15 Lab stations, 15 suspects and 3 Killers. You will have real life forensic scientists and real time equipment to examine bullets, match DNA and the life. This is one experience not to be missed.
Las Vegas is a gorgeous place beyond the casinos and the dazzling lights. However, the grand casinos and the lights are what make Las Vegas an extravaganza. Therefore, do not miss the awesome shows and loosing track of time at the poker tables because its Vegas, baby!