Wooden jewelry box – Travel Souvenir from Bulgaria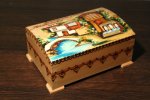 On a free Monday my husband took me on a surprise trip to Bulgaria. This one-day trip was to the touristic town of Veliko Tarnovo. It was my first city and country I ever visited outside Romania. So, you can image the excitement!
When we got there I wanted to see as much as possible. A natural tourist behavior, right? I also wanted to bring something back home, a souvenir that will always remind me of Bulgaria and of Veliko Tarnovo.
So… we went shopping. Everywhere there were different bottles with rose perfume – it is a local product from a region famous for that (Kazanlik). But I didn't want rose perfume – so, what to choose? I was looking for something that would say "local", "Bulgarian", "specific", something to keep.
I ended up buying some postcards (to show my family the surroundings and local touristic objectives) and a wooden jewelry box for myself. It has some local architectural sketches engraved and painted on it. Every day since then this little box reminds me of that surprise trip to Veliko Tarnovo.