Bansko, Bulgaria – To go or not to go…
by Vlad
The stories about Bansko say that it's the coolest ski resort in the East of the Ol' Lady. Having not made any New Year party arrangements – as usual – we decided to go skiing with our friends in Bulgaria.
Being the last ones to decide, we had to look for another 2-person room. We found one, but not since Dec. 30th like everyone did but since Dec. 29th – but hey, we're special.:)
The trip to Bansko is very good, providing a very beautiful night landscape. After several tight turns we reached the resort's entry gate, well lit – something uncommon in Romania. It was already night and the first impression was that we came to Austria. Nice and pretty-decorated hotels, mountain resort architecture (not Pipera relocated somewhere higher (or was it the other way around?). After the first minuts we realized two VERY important things: it's 4-5 times bigger than Poiana Brasov AND… there's no map or any other directions to lead you to the hotel.
Unless you understand the Cyrillic alphabet, it's called you're bust. Bulgarians speak no foreign language – or at least they didn't speak it with us – which added further 45 minutes to our journey. Police sent us elsewhere, in the forest; the shaworma salesman – one of the tens, if not hundereds of – sent us to the ski track. We finally got to the magnificent hotel where we had to stay for 6 days.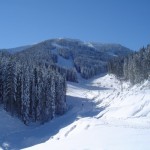 As soon as we got there, the problems started. In the parking of TWO apartment-hotels you couldn't fit more than 10 cars – of which four 4×4 climbed on a 25 cm border). We asked about the subterranean parking, and after 5 minutes of explaining and describing the word @parking@ we got the answer "sori, park bizi ful". We got to the reception – which looks really big in the pictures, the real thing is less than 2 sq. m. – we presented the ID cards and the online reservation and we got the room key. After searching for a couple of minutes, we got back to ask where the hell is the elevator. Pissed off, the receptionist – who was way to caught in Farmville on Facebook – led us ot it. Indicators towards the elevator – nothing, it's a 4-star hotel. In the elevator we had another surprise: having room 405 I figured it was on the 4th floor and my intuition worked, except that we were in an elevator cabin (with "panoramic view" according to the description, i.e. a 1 m / 0.3 m window, dirty, through which you could see a building site in all its splendor and where would fit I, holding in my arms my lady and her associated purse) having floor buttons labeled from -1, P (Ground floor) up to 3!!! Where is the 4th floor? Maybe it moved to the 3rd… I pushed the button and we got to what's called the 3rd floor or more specifically between the 4th and the 5th floors. There's no bell-boy so we pulled the luggage all the way to the room.
The room was really a 2-room apartment, a bedroom and a living-kitchen room. Simple furniture, but new and nicely fit. A large bathroom, rather smelly due to poorly designed and built sewage (which we also found on the Bulgarian seaside) and a pretty large terrace with a view to the slightly less larger parking… Every room had a TV with enough sound for those using hearing aids or having Dumbo-like pavilions. We readthe intructions for the kitchen and we found out thet if you touch the pots, microwave, stove etc. it costs another 20 EUR.
Being late, we thought about ordering something from room service, but ha! Not only there's no room service – there's no tone on the phone either. According to the presentation on the website, "evri rum has internet wireless". There was a network, but without internet – that is, you could connect to it and it remained connected. In the morning we got down to breakfast. Another adventure till we found the "breach" to the wonderful restaurant in the basement. On the way to the restaurant we noticed the "spa center". A mean 5 x 3 m swimming pool with a jacuzzi half of it (the preseantaion makes it look like an olympic swimming pool).
In the restaurant we found a waiting line in front of a table. We also found it full of little children running among the adults. After identifying ourselves at the entrance, we chose a table and headed to the buffet. Disaster strikes! Cold omelette, roast hotdogs and slices of sausages in an oil pool, cheese spares which looked like someone has played with, square bread and a toaster with a record production rate of 2 slices in 10 minutes. We ran to the town! During daytime part of the resort is a building site full of building outlines – which the night manages to hide pretty well.
Everything is cheap – but it only seems to be:
–    food prices are at most 20 leva / dish, but eschange this at the Bansko rate of 1.85 BGL (BulGarian Leva) / EUR (compared to the official 1.95 BGL/EUR) we got to pay 10-12 EUR per dish of a doubtful quality; for a couple, a meal always reaches at least 45 EUR;
–    Half a day of skiing is 41 leva, a little over 22 EUR (ina Austria, Salzbur area – i.e. over 1700 km of ski track and 580 ski elevators – 183 EUR / 5 days, thus 36 EUR pre day);
–    Renting equipment for half a day (water ski through mountain mudholes) 57 leva (30 EUR). The waiting line for the ski gondole takes a little over 30 min, which halvens a ski day (or, in our case, the half a ski-day) if you want to get down from the mountain to the resort.
Most of the restaurants / taverns scream with Bulgarian folk (?) music with Romanian "manele" inserts. Wonderful! As it suits any tourist, on our last day we found a restaurant with an uncommon atmosphere and offering excellent food. We had days when "room cleaning" meant a lady breaking in in the most unsuitable moments, providing a dumb smile, a trasn bag and a roll of toilet paper. Fresh laundry, clean towels, cleaned room – these are scenes from another movie tat does not play in Bansko – or at least not in our 4-star hotel.
The New Year's evening took place in the living-room-disco Graffiti, when after 12 o'clock, given the start of 2010, our ears have been blasted away by some Romanian "manele" that sent us to sleep. On January 1st the food adventure started all over again – this time it didn't last 2 hours but only one. On January 2nd we went to see Greece, at most 100 km distance. Another world, 19 deg. Celsius.
LIE is the word of reference when it comes to the websites presenting the hotels, or those like ski reports (on banskoski.com all tracks were open; in real life two of them had traces of snow).
One upon another, we cannot blame anyone for the lack of snow, but we can for the the lack of services quality according to the hotel's number of stars. An unsuccesful experience, rather expensive, which we won't repeat. Austria remains the ski paradise in Europe, and the services over there are light-years ahead of thos in Bulgaria.
All too bad of Bansko, of all the money invested there by the English and the Germans; if they're managed by the Bulgarians, with a couple of more decent pubs thing won't go for the better.

Vlad Joanta – I talk about any subject I know, there are no such things as taboos.
I like to laugh.
*Photo credits Ski in Bulgaria