A Must not Miss Hike in the Spanish Pyrenees
For those who love to take short walks or even longer hikes in the mountains, the Spanish Pyrenees are a perfect destination. The weather is great most of the year, and the scenery is mesmerizing. There are so many beautiful places to see, that it is almost impossible to select only one place to recommend. But Ordesa and Monte Perdido National Park stands out and attracts tourists every year.
Often compared with the Grand Canyon from the USA, this park was founded by royal decree back in 1918 aiming to protect the natural integrity of the central Pyrenees.
Waterfalls, caves and spectacular observation points can all be admired in an eight hour hike from May to mid-November (you should check the weather conditions in the area before taking this hike!). Ordesa and Monte Perdido National Park, together with the adjoining French Pyrenees Park, has been declared a World Heritage site by UNESCO. The Valley of Ordesa is really beautiful too, and most certainly a hike in this area will prove to be quite a memorable experience. Just make sure you book a tour when hiking in the Pyrenees, and you can do that at //www.hikepyrenees.co.uk/.
The waterfalls you may encounter on your way, their beautiful sound and the lovely view they provide, the numerous peaks you'll be able to admire and beware that you are literally only steps away from France, the amazing sights, the flora and the fauna, the fresh air, all these will enchant you when in the area.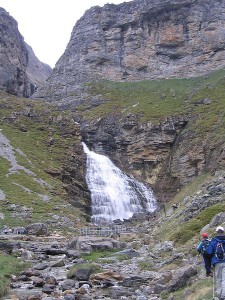 Free photo on Wikipedia
To provide just few geographical details, I'd have to add that the Pyrenees are in fact a range of mountains in southwest Europe that forms a natural border between France and Spain, separating the Iberian Peninsula from the rest of continental Europe and reaching to a total of 491 km length.