Top five must visit casinos of Las Vegas
Las Vegas is just full of casinos, making it ideal for those visiting the resort to have some idea of the best places to go to play casino games. These are five casinos that you cannot go wrong with.
The Bellagio
If there is one word to describe the Bellagio hotel and casino it is this: luxury. Everything about the place screams that it is for people who appreciate the finer things in life. The casino is distinctly high end, while the restaurant and hotel facilities will make you feel like you are visiting royalty.
Rio All Suite Hotel and Casino
Whereas the Bellagio is all about opulence and dignity, the Rio is the place to play and stay if you like to party. Designed to resemble Rio at the height of carnival fever, this is one of the liveliest and most colourful hotel/casinos in Vegas, and is perfect for younger travellers with energy to burn!
Wynn Las Vegas
You can hardly fail to spot the Wynn Las Vegas from the outside, thanks to the glass exterior, which makes the whole building shimmer in the sun. Furthermore this is considered to be one of the very best casinos in the resort, with a superb choice of casino games, from slots to live tables, making it great for those dedicated to the gaming.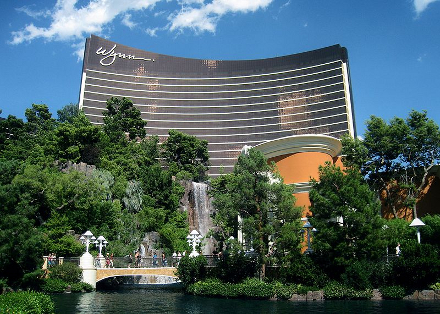 Photo by Almc1217 on Wikipedia
The Venetian
There certainly aren't many more spacious casinos in the world than this one – as it spans a remarkable 120,000 square feet. This means room to house an impressive selection of casino games, as well as plenty of other entertainment and dining amenities within the various suites.
The MGM Grand Las Vegas
This place has to be good to live up to a name like that, and it is. The MGM Grand boasts one of the top rated casinos of any city in the world, alongside restaurant and hotel facilities which simply cannot be bettered. Everything about this place is top class, and it is somewhere you will never want to leave.