Ybor City – from hard day work to hard night party
Guest post by Dumitrita
Ybor City – My story or 'Girls just wanna have fun'
My travel story dates there years ago when I firstly entered United States of America, more exactly, Tampa, Florida. Of course I was not alone in this Work& Travel program and, probably, this is the very fun side of the story – remembering what made me happy and how rewarding a challenge can be, but this is already another story.
As a student, I had the chance to join an exchange program, Work& Travel on its name. As you can figure it out, me and my colleagues were supposed to travel and to work in the US. At the end, it turned out to be more work than travel but the little travel we enjoyed was enough as to motivate us to come back, to put a smile upon our faces when talking about it and, of course, to make friends there.
But today I am going to talk about other kind of friends. Good memories. I will take Ybor City this time.
Ybor City – or, how to press play
After exhausting days at work (exhausted not merely from the load of hard work (actually it was about hard soft work – we worked in the sales area, beauty products), but from the energy intake we were about to receive from both Americans and witty Israeli sellers) something was about to happen. After evenings of merely listening to a choir of melodious grigs, we decided to listen to the sound of our white car's motor in the middle of night also, and not only. Knowing the way but not the exact direction, we managed to find the place where the lights and music were all the night long on.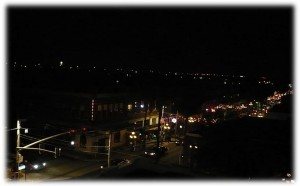 Ybor City was very close to our way, as we lived in Brandon and worked in Tampa. Anyhow, it was a little bit difficult to find the specific area of the city we were looking for. But, in this case, the more little we knew, the better. As the first time we went there was Sunday, the city was almost sleeping, because it was kind of empty. No excuses not to enjoy as the lights and music coming from the clubs and cars made it look still lively. We felt free to explore it despite of not knowing exactly the so called local rules of this city, if there were some. The few people we met on the streets (mainly men) were eager to help by giving us orientation tips. In a couple of minutes we had not only our car parked, some photos taken, smiles shared and an idea of what's actually happening in nearby Tampa, but we also found the club we were looking for. If you are not living in the area or in US you will think that we were courageous to go there in the middle of the night, solely girls and without informing someone else about our leaving. No reason to be afraid of anything, I can say, as long as police was at work, the streets were not crowded, the lights were all on. We were in the right hands, in our own hands. Anyhow, we did not need help in imagining that those streets have a interesting story to say. Only that at that time we did not know anything from the following lines.
Ybor City by night  – Centro Ybor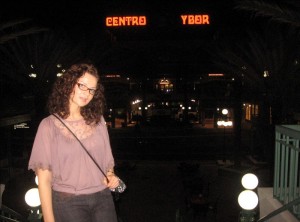 Last Saturday night of our W&T program was totally dedicated to Ybor. Me, Ina and Renata were lucky to have met a Romanian girl established for 9 (now 11) years in the States. She was our night guide in our second trip to Ybor. This time was quite different. Police was more present and the bars were full. I can remember lines of bistros and fast foods, cars with music played loud, troops of black girls and troops of black boys bearing more or less silent talks.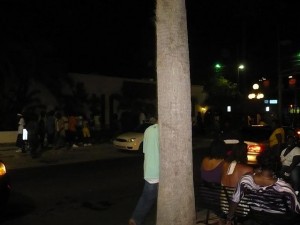 Centro Ybor is what I remember the best when I am thinking about what once was The City, the most modern and vivid place at its heyday. Presently, Centro Ybor features family and entertainment oriented activities such as: Muvico Theater, clubs, boutiques, restaurants, cigar shops, bars and other entertainment venues.  I can tell you that you will surely feel the echoes of the past when enjoying the entertaining atmosphere of Centro Ybor, even though I crossed this train line by night.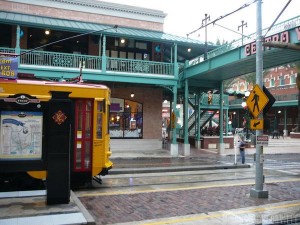 I do not know what counted the most. The hour spent in the club, the courage to take a long ride with our work car in the middle of the night, the escape itself, the fact that we got to experience USA in another mode also, the time spent with the girls, or the emotions we had the next day at work. Having secretes feels good indeed J Well, I do not know the exact answer. I have a guess that finding a lot about Ybor City's history will make me feel as good at least. Well, I do not exaggerate when I say that I walked into a lively treasure. We will see that it is definitely more than that.
Ybor City – A story Itself
Probably Ybor City (1886) would not have existed without the influential cigar manufacturer, Don Vicente Martinez Ybor, the founder of a city that initially had only 40 acres. Vincente Martinez Ybor came from Key West to found what by the turn of the twentieth century was named 'The Cigar Capital of the World', due to the 140 cigar factories active, (even though by the mid 1950 most of the factories closed). He had indeed a powerful personality as long as Cuban, Spanish, Italian and German immigrants followed him and contributed to what today represents a National Historic Landmark district.
The specificity of the Ybor City is apart not merely because its rich history in the cigar manufacturing, but also because the diversity of the people that lived there over the years. Therefore, not only cigars J, but also the people from different parts of the world (Cuba, Spain, Italy) settled  the grounds for festivals, tourism and nightlife industry. The annual festivals, such as: Guavaween (celebrated in October) is Ybor City's version for the Halloween party, the Cigar Heritage Festival, Sant'Yago Illuminated Knight Parade keep alive the old echoes. Ybor City's official day of celebration, Fiesta Day Festival, it is the day for actions such as: the Parade of Flags, the children's fiesta, listening to ethnic music, café con leche, annual Flan Fest and so on.
Ybor City Musem State Park
This is the perfect place to go for those thirsty for historical information about the way cities evolved, as is that of Ybor City. You can find here historical information about the cigar industry, the social clubs, and about the Latin community established. The museum occupies the former Ferlito bakery – as the name suggest, a bakery established by Italian immigrants in 1846. But above information, I think that the images will speak for themselves.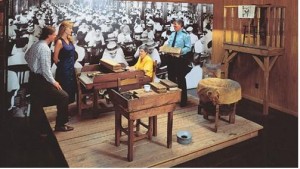 The city abounds in attractions as old red brick buildings, that once were cigar manufactories, paved streets which give a divine feeling to the eyes in the rainy days, Columbia Restaurant, Florida's oldest and most honored Spanish restaurant, and the title says everything.
I cannot grasp the vibrant story of decline and renaissance in Ybor City. You should walk on its streets, and the story will unfold itself.
I wish I had all this information when I was in Florida. Still, it feels good for having reached that ground. Now I know I was lucky, as other presidents and stars that enjoyed the city. What about you?
Sources
//www.southernhistory.net/index.php?name=News&file=article&sid=10328
//www.travellady.com/Issues/January03/AJourneyintoTampasHistory.htm#
//www.flickr.com/photos/army_arch/5142322195/
//www.metrojacksonville.com/article/2011-jan-revitalizing-neighborhoods-ybor-city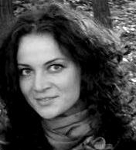 About Dumitrita
I am Communication and Public Relations graduate, currently undertaking a master degree in Brand Management and Corporate Communication, at SNSPA, Bucharest. I am passionate about Speech Communication and Branding, as I am of Travelling. I can be easily reached through my Twitter account: @dumitritahirtie.  May you all enjoy the most beautiful destinations!