Top 5 luxury hotels in Las Vegas
Last Updated on
Glitz, glamour and gambling – that's what Las Vegas is all about. So, in my opinion, if you're planning a trip to Sin City you should go all out and book yourself into the slickest hotel you can – I mean, why do things by halves?
Of course, since the metropolis is a hive of lavishness and excess, working out which hotels are the best can be a tricky affair. So, I've put together a list of Las Vegas's top five luxury hotels – hopefully this will help you decide where to stay.
1) Bellagio
Let's start with one of the world's most famous hotels, the Bellagio. It's pretty likely you'll have heard of this one – or at least its celebrated fountains. Located among the bright lights of the Strip, this resort has a really impressive range of accommodation. If you like, you can pull out all the stops with a lavish suite, or be (relatively) modest by opting for a room – though I do recommend one with a view of the lake.
There are stunning botanical gardens in the lobby, a Roman-themed spa and designer stores – think Gucci and Chanel. And, just in case you haven't heard of the fountains I mentioned above, they're located on a vast 12-acre lake outside the hotel, and they 'dance' set to music and lights at regular intervals throughout the day.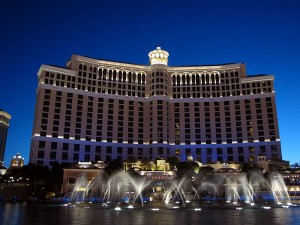 photo source
2) The Palazzo
Next up is the Palazzo, which is attached to the Venetian Casino Resort (number four on my list!). This is a great choice if you're looking for total luxury, since it offers some truly decadent suites, as well as a world-class spa. Come here and you can really live the highlife by relaxing on the pool deck with its gardens, seven pools and fountains and then going to see one of the onsite shows, which include Rock of Ages and Priscilla Queen of the Desert.
3) Rio Las Vegas
The only hotel on my list not to be located on the Strip, Rio Las Vegas is nonetheless a paragon of luxury. Located around a mile from said Strip, this all-suite establishment has amazing views over the bright lights of Sin City – especially from the incredible VooDoo Rooftop Nightclub, which is an indoor and outdoor venue perched on the 51st floor and, in my opinion, one of the best places in the city for a night out. Other highlights of staying here include the Rio Spa & Salon, where you can get seriously pampered, and VooDoo Beach, with its pool, waterfall and real-sand beaches.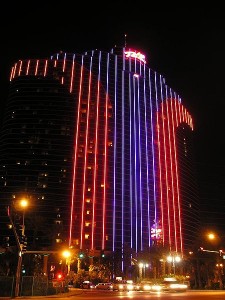 photo source
4) The Venetian
Another all-suite hotel, the Venetian is one of Las Vegas's icons. As you've no doubt guessed from its name, it tries to recreate the beauty of Venice and features replicas of famous sites like St Mark's Square and the Rialto Bridge. You can even take a gondola ride on the Grand Canal! There are few resorts in Vegas that quite meet the Venetian's standards of luxury, which has hit five-diamond status. Alongside the LAVO and TAO nightclubs, it has a huge range of glamorous bars, including the Bellini Bar and the Laguna Champagne Bar.
5) THEhotel at Mandalay Bay
The last place on my list is THEhotel at Mandalay Bay, which is reputed to be one of the finest boutique hotels in the world – as well as having some of the largest standard suites in the whole of Vegas.
Interestingly, there's also dog-friendly accommodation, so your faithful friend can enjoy a spot of Sin City glamour too! You'll also find an impressive selection of restaurants and boutiques in the sky bridge below the tower, which runs between the Mandalay and Luxor resorts.