JR, a steer with world-record-beating horns, could drive tourists to Queensland
JR is a Seven-year-old steer that was recognized as having world-record-beating horns and is believed to be a major tourist attraction for Queensland ranch in March and April, when the season picks up.
His massive horn-span of 2.77m, a whopping three times larger than your average steer was recognized by Guinness Book of World Records.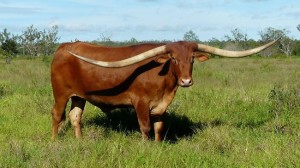 Picture: Red Kangaroo Media via News.com.au
"JR's bloodline can be traced back to the southern American state, and Mr Bethel hopes to get some authentic Texans visiting Leahton Park this season."
Michael Bethel, the owner, said that "It's kind of an anomaly – it's genetics and luck".
What do you think? Will this steer attract visitors?