Three Must-See Attractions in Scottsdale
Scottsdale, Arizona is famous all over the United States for its golf; it attracts golfers from all over the planet, and its warm climate allows courses to operate year-round. But if you're not much of a player, there are plenty of things for you to do in this Phoenix-adjacent town. Even if you are itching to get out on the links, you may find yourself unable to resist the many charming attractions that this city has to offer. For any visitor, these three spots are a must.
The Heard Museum
The Heard is one of the most prominent exhibitors of Native American art and culture in the American Southwest. Founded in 1929, it was a modest part of the small town of Phoenix, and grew alongside the city to become a world leader in its field. The main campus displays ancient artifacts, contemporary pieces, and even handmade jewelry, actively collecting not only historical art but also fine art by current American Indian artists. It routinely hosts festivals, galleries, performances, presentations, and lectures that teach about the various tribes living in Arizona today.
The museum prides itself on going beyond simply exhibiting indigenous art: it partners with hundreds of artists, elders, tribal leaders and community members, encouraging them to share their stories and their crafts. There are two campuses: the original Phoenix location is about a half hour's drive from Scottsdale, and contains the majority of collections as well as a large outdoor amphitheater for performances and festivals. For a quick trip, the North Scottsdale location has two galleries and a sculpture garden, and routinely displays contemporary art by local craftsmen and women.
Taliesin West
Frank Lloyd Wright is famous for his organic designs, unique approach to urban planning, and buildings like the Fallingwater house in Pennsylvania; he is often called one of the greatest architects of all time. Taliesin West is his winter home and school, built in 1937 and designed to have a strong connection to the desert around it; from the original house, he and his students added several other buildings over the years. Many of his most famous structures were designed in the drafting room.
Today Taliesin West houses the Frank Lloyd Wright School of Architecture, and the house is open for tours. It's extremely popular because of his unique approach to design; the structure is made out of local desert rocks, and natural light flows in through a translucent plastic roof. The cabaret theater, often called one of Wright's most brilliant creations, is a six-sided irregular hexagon with 95% acoustic perfection: a whisper on the stage can be heard by someone sitting in the furthest row of seats.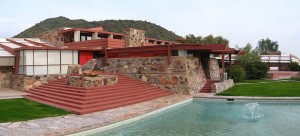 Arizona Museum of Natural History
Any kid will tell you that the best types of museums contain dinosaurs. Thankfully, the Arizona Museum of Natural History provides fascination and education for everyone. A massive, fully assembled Columbian Mammoth skeleton beckons to you from the lobby, inviting visitors to explore the origins of the universe itself. There are halls full of fossils, a permanent exhibition on the state's archeological history, and a Paleo dig pit where budding paleontologists can try their hand at digging up their very own fossils. There are also halls dedicated to Native American and ancient Mexican cultures, and lots of chances for kids of all ages to learn a little science and have fun while doing so.
Citations:
Come visit us at Diamond Resorts International Scottsdale Links Resort for your next vacation experience. Our resort destinations offer you great value and quality service.