Cuckoo clock – a travel souvenir as well as a special home decoration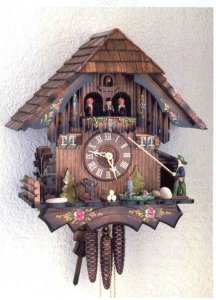 2 years ago I made a very short (half a day) trip to Heidelberg, Germany. Yes, a town famous for a special castle – but unfortunately I never got to see this castle up close, therefore sometime I'll have to go back there.
Walking down the streets at some point I entered a souvenir shop. There I saw many, many interesting objects – and I bought several as souvenirs for my mother, my friends and myself. But part of my soul remained there along with a special cuckoo clock.
Why special?
First of all I have to tell you that I simply love cuckoo clocks. I had one at my mother's home, whan I was a child (unfortunately it was broken for a long time and no one could fix it properly). Then, in this souvenir shop there were many cuckoo clocks – with prices varying from around 30-40 EUR (for a small one) to much more.
Looking back I think that if in that day I had to choose a clock, it would have been a very hard decision to make. Every clock had something special: a special domestic scene, a party on the countryside, a fishing scene, people dancing and many more. You can, therefore, understand why such a choice would have been very difficult…
Still I hope I'll get there sometime and by the I'll be able to buy one. In the mean time I even found a site (with only some models, not everything I saw there): Souvenir-Shop-Heidelberg
I wonder how many people like such clocks?
*Photo credits Souvenir-Shop-Heidelberg