Shopping in Vienna: what to choose: Mariahilferstrasse or outlets near Wien?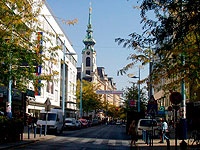 When living in Europe it's impossible not to find some tourism agencies offering short shopping trips to Vienna. There are famous sales periods known well before and the shops offer generous discounts.
As you may already know, there is a famous shopping street in Vienna: Mariahilferstrasse. You can get there quite easy via tram or subway – there are several stations along this important shopping street.
Here you'll find famous brands such as Mango, H&M, New Yorker and basically any respectable brand you can think of. Some of them have more than one store along this street, like H&M. In a sales period discounts may vary from 10 to 70% – and you can find many interesting offers.
You will eventually find out that there are several famous outlets near Vienna as well, also offering good prices and generous discounts. Of course you'll have to find a way to get there (while getting on Mariahilferstrasse is easy, this one being downtown Vienna).
So which is better?
Outlets
they are a very good option outside sales "seasons";
they are near the city – so you may find the transportation issue to be more or less of a problem;
as a tourist you have to choose wisely – carefully account for the number of shopping days at your disposition;
get informed before going there – there are specialized sites (tech for instance).
Mariahilfer Strasse
easy to get there – Vienna downtown;
many brands present – so it's almost impossible not to find what you are looking for;
you have the advantage of taking short breaks whenever you want (…or need): something to eat or drink and a place to rest your feet.
Last year I was with Ave in Vienna during the summer sales – late June – early July. It was our vacation and we really are not shopping addicts. Anyway, we decided to dedicate one day exclusively for shopping – but we had the same dilemma: outlet or shopping street?
We decided to remain in Vienna. First of all our car was parked in the hotel's parking space, no reservations (and the parking was not big enough for all possible cars, so the return could have been tricky). Ah, and the parking was free, included in the hotel services. However if you want to get there by car you can do that and expect to find a parking place in special areas along the street – you can find out more about Mariahilferstrasse from it's official website.  Also, once in Vienna you may choose to go to more than one place for shopping. For example, if you don't find what you are looking for in any store along Mariahilfer Strasse you can go to different shopping places, malls etc. By the end you will almost surely find what you're looking for and then some! We were very happy with our choice.
So if in Vienna during sales times we suggest to choose the city downtown first – Mariahilferstrasse and other important malls and stores.