Petit Place Lealtad Plaza Hotel Opens Its Doors in Madrid, Spain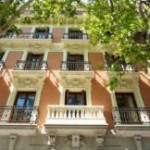 HTGroup, one of the largest hotel groups in Spain, today opens the doors to its latest four-star luxury premises, the Petit Place Lealtad Plaza Hotel in Madrid.
Geared towards both the business traveler and tourists seeking only the best in hi-tech convenience, the Petit Place Lealtad Plaza Hotel is the epitome of everything these travelers could want, with its modern, spacious rooms and a wealth of luxury amenities designed to cater for all their immediate needs.
Petit Place Lealtad Plaza Hotel boasts an excellent location in the middle of Madrid's renowned El Retiro district, just minutes away from the city's central business district and the Madrid Stock Exchange, not to mention the Atocha train station. Meanwhile, attractions such as the Museo del Prado and the Reina Sofia will surely catch the eye of those guests traveling for leisure rather than business.
Petit Place Lealtad Plaza Hotel is housed in a newly renovated, yet richly historic building designed by one José Urioste y Velada, a legendary Spanish architect whose most notable triumphs include famous Madrid landmarks such as the Puerta de la Independencia, Puerta de España et Puerta de Hernani, and the main access gates at Retiro Park.
Guests at Madrid's newest luxury hotel will be able to choose from a total of 71, hi-tech and disability-accessible rooms sporting lavish furnishings and an elegant, yet stylish décor. Room amenties include free wireless internet, flat-panel TVs, iPhone/iPod docking stations, and a free tablet device on request. Meanwhile, the hotel itself offers a wide range of services, including a gourmet restaurant on the ground floor with free buffet breakfast for all guests, international newspapers, private dining rooms, a bar, bicycle rental and public parking nearby.
The hotel is also fully equipped to accommodate for business travelers, with no less than three conference rooms that can seat up to 100 persons. Each conference room comes equipped with wireless internet, video projectors and screens.
HTGroup currently operates ten hotels within the Madrid area, including the prestigious Hotel Petit Palace Arenal Madrid and the Hotel Petit Palace Avenida Gran Via, as well as an extensive portfolio of properties in cities such as Barcelona, Bilbao, Malaga, Seville and Valencia.