Short getaway: have you visited your town's surroundings?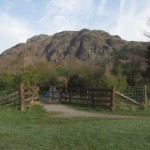 Sometimes you just feel the need to take a break. Even if you cannot take a vacation – but you want to travel – you have the perfect solution: visit the surroundings of your hometown.
Now let's be honest for a moment: we all dream about traveling far away from home, visiting places and enjoying sights we've either seen on TV or heard about from our friends. It's great to be able to do that, but when you cannot you still have lots of options for a day (or a weekend) out.
A friend of mine was always complaining about how she doesn't have the money to travel abroad and how she cannot afford a vacation – and cannot take a weekend of her job. And I asked her: "Have you visited the places around the city?". Puzzled, she replied: "What sights?!?". Now, you see: this is exactly what happens. We start to look far away, but ignore what's nearby, just waiting for us.
How can you find out what's interesting? Use the Internet, ask your friends and so on. Take a map – and look for cities, names and important points of interest. Then make a plan – choose the means for transportation, consider the water and food you'll need, pick up a GPS or a map and off you go. Here – Top 10 Tips for planning a 'Staycation' Day Out … – you have some tips that can help you make the best of such a trip in an excellent article.
What should you expect to find? Well, it depends on the area you live in – city, country… You might find:
lakes;
caves;
volcanoes;
fishing areas;
parks;
castles and other important historical buildings;
monuments;
special playgrounds / parks;
mountains or seaside;
amazing sights
and I'm sure the list can be further extended.
Of one thing I am sure though: there is plenty to see/visit – if you only take the time to document it. And in each trip you'll discover something new – and in those several hours you'll recharge your batteries for the next day or week.