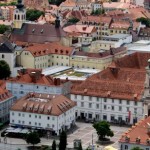 Vacations. Time off from work, problems, stress etc. Vacations – that time in the year loved by everyone.
When choosing to visit a town from your country you've never been before or when you go in a different country what do you choose between big city and small town?
Let's start with big cities.
These are presented in different written guides, on Internet etc. – so there's a lot information available about points of interest, thus enabling a visitor to create different routes and choose various touristic objectives of interest;
There are a lot of places to visit, restaurants to eat etc. The variety means you can't get bored;
Crowds – when in vacation you may wish to get rid of it. But a big city involves crowds.
Hotels with multilingual-able personnel – maybe in smaller cities you won't be able to find that so you will have to know at least some basic .
Now let's see a small town.
first of all they are small, therefore less crowded.
you get to know people – you can choose to stay at someone's home (in Romania for example you can stay at different peasant hostels enjoying homemade and natural food, experiencing life in the country); you can establish relations – and start friendships that may last for a lifetime;
on the downside, there are not not so many touristic attractions, but there may be many villages or other towns nearby, therefore certain opportunities for some tours;
fresh air – a small town, especially one away from big cities, a country town offers fresh air, a wonderful break from city air.
When going to a new country for the first time, a big city seems to be the perfect solution. One has the opportunity to meet locals, to visit some touristic objectives but also to wonder around the streets in order to see and feel the city beyond the touristic guides and so on.
When in need of a break you might want to consider a smaller town – either in your own country or abroad. A small town having what you're looking for – mountain sights or other landscapes etc.
Whatever you choose we wish you a great time!