The Best accommodation you can find in Bicaz, Neamt, Romania – Lostrita Pension
Guest post by Andreea Marc, Editor at Belva.ro
This week-end I was in a mini holiday in an ideal place for relaxation, which can combine in a perfect way my boyfriend's passion for fishing with my passion for gorgeous landscapes – Lostrita Pension in Bicaz, Neamt.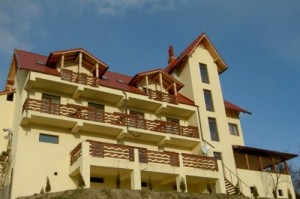 As we got there, we were welcomed by the hosts, the Vamanu family, who showed us the rooms and explained us what are the facilities of the pension. The first thing that I did when I entered the room was to look at the landscape from the balcony… I was just speechless. The pension is situated exactly on the shore of Bicaz Lake and it is surrounded by green hills, blue sky, clear water and nice people. Shortly: dreamlike.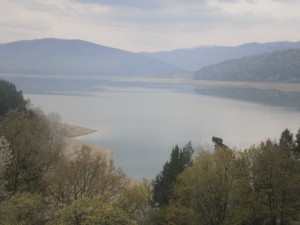 The beds are made for the perfect holiday, because you wake up every morning smiling. More than that, when you look on the big windows you can see Ceahlau Mountain smiling at you and calling you in the heart of the nature.
When you get down in the restaurant, be prepared for huge and delicious meals, perfectly cooked my Chief Peter. He amazed us with trout, chicken soup, pork neck, omelets, donuts and grandma's chicken. I can count on the fingers from one hand the places in Romania where I ate such a delicious food.
If you are afraid that you will get bored in the silence of the landscape, I assure you that you won't. You can go in a boat ride, ski jet or water bikes, fishing, ping pong, rummy, cards, karaoke and, for those workaholics like me, Internet wireless. If you are a big group, I strongly suggest you to accept the host's challenge and to visit a sheepfold nearby where you can taste traditional food products.
I haven't been in a long while at a pension where I had such a great time. I really managed to unplug from all my work and to get back home full of positive energy. Lostrita Pension is the perfect choice if you are looking for accommodation in Bicaz or Neamt. I guarantee you that you will love the place and that you will go back with more of your friends.
The pension has 8 double rooms and 2 apartments. Each room has a double bed, a TV, a fridge, a bathroom, a hair dryer. The price for rooms is almost 30 euro/room/night with breakfast included and the price for apartments is almost 40 euro/apartment/night, no breakfast included. The prices for food are extremely good: one omelet is a little over 1 euro, a coffee is 1 euro, a soup is around 2 euro, a chicken meal is 4 euro, and the dessert is almost 2 euro.
You can make the reservations either by calling the host directly (Mr. Sergiu Vamanu – 004.0726.253.518). You can find more about Lostrita Pension on their sites: www.laculbicaz.ro or www.pensiunebicaz.ro
Have a nice vacation at Lostrita Pension! I know I did!