Tips for visiting Salar de Uyuni, Bolivia
If you are planning a Bolivia trip, then you should consider visiting Salar de Uyuni or Uyuni Salt flats. This largest salt flat in the world is quite special and the landscape will surprise you – and enchant you. Here are the most useful tips for visiting Salar de Uyuni, Bolivia to help you have a great visit here.
These Salar de Uyuni tips are offered by Priyanka Gupta fron On My Canvas and this article covers everything you need to know before going to Salar de Uyuni, Bolivia. Make sure to read all the information presented so that you will be prepared and will have the best time. This guide to Uyuni Salt Flats covers every travel aspect!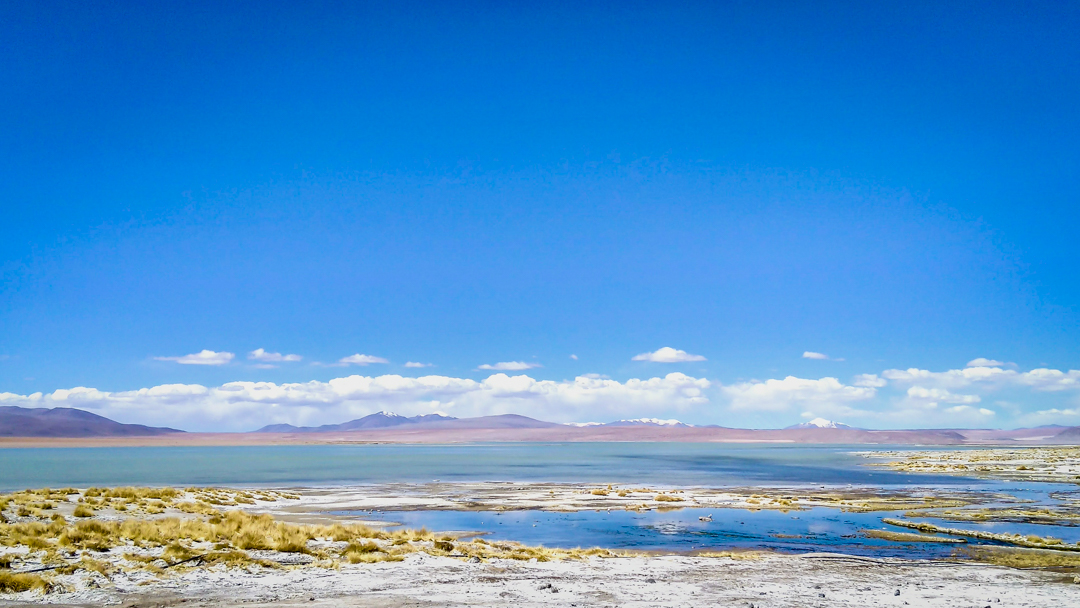 Things to know about Salar de Uyuni, Bolivia – your Uyuni Salt Flats guide
Salar de Uyuni or Uyuni Salt flats are a vast salt-deposited land in Southern Bolivia. One might even call the salt flats a salt desert — for you can only see white salt spread over the entire earth for about 4,000 square miles.
How were these bizarre salt flats formed? Geological researches show that the Salar was created when the sun evaporated all the water present in the lower Andean areas.
The story seems true for the salt flats are nothing but a collection of dry salt hexagons now. No matter how far you see, you will only see these hexagonal shapes crusted in salt.
If you are traveling to Bolivia, you must go to the Uyuni salt flats for a trip to Bolivia isn't complete without seeing the Salar.
This endless horizon of Salar de Uyuni gives them a unique photogenic quality, too. You can play around with the angles but the most popular photograph of the area are the ones in which photographers use the wide-angle of the frame to create optical illusions. Reflection photographs of the Salar are also brilliant.
Apart from unique photogenic settings, Uyuni salt flats offer a breathtaking, but bizarre landscape. Funky rock formations, red lagoons and pink flamingoes, steamy geysers, natural hot springs, mountains of boulders, high volcanoes and Andean peaks, all on the top of a white flat covered with salt — this is Salar de Uyuni.
If the landscape of Uyuni salt flats doesn't sound exciting, then what will?
Let us go through our best tips to visit Salar de Uyuni so you can have an exciting time in the world's largest mirror and salt desert.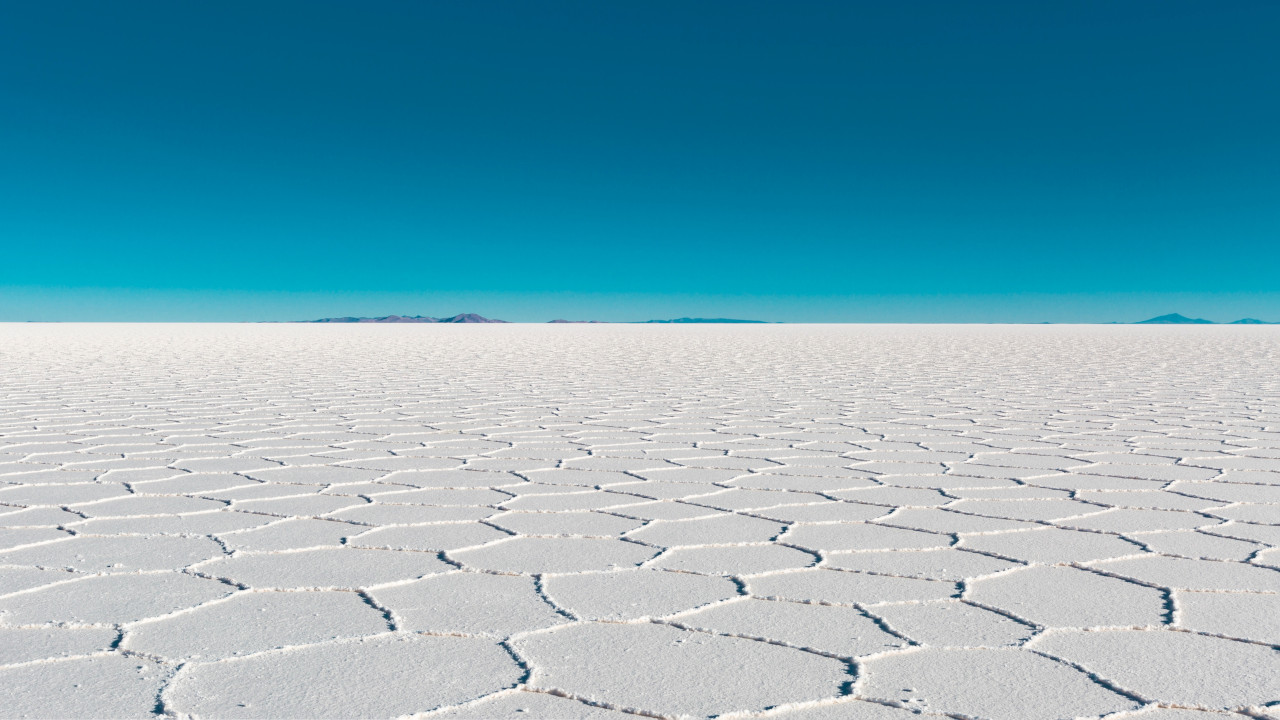 photo source
From where do you go to Salar de Uyuni? How to get to Salar de Uyuni
You go to the salt flats from the Uyuni city which is in Southwest Bolivia. The drive from Uyuni to the salt flats takes about five-six hours.
Uyuni is one of the high cities of Bolivia. The altitude is 3,700 meters so make sure you travel slow.
How can you arrive at Uyuni?
You can travel from La Paz to Uyuni by bus. You can also take a bus from Potosi to Uyuni.
Bolivia Hop is a reliable bus company to travel within Bolivia (and even for crossing international borders).
If you are traveling to Uyuni from east Bolivia, that is from the Samaipata village or the rich city Santa Cruz, take a flight as the bus journey would be too long. The flights aren't that expensive in Bolivia even if you book just a couple of days ahead.
If you have problems with altitude sickness, I would suggest flying to Uyuni rather than taking a bus. Bus rides in curvy roads make the altitude sickness worse.
La Paz to Uyuni is a one-hour flight. Flying is the best option to arrive in Uyuni.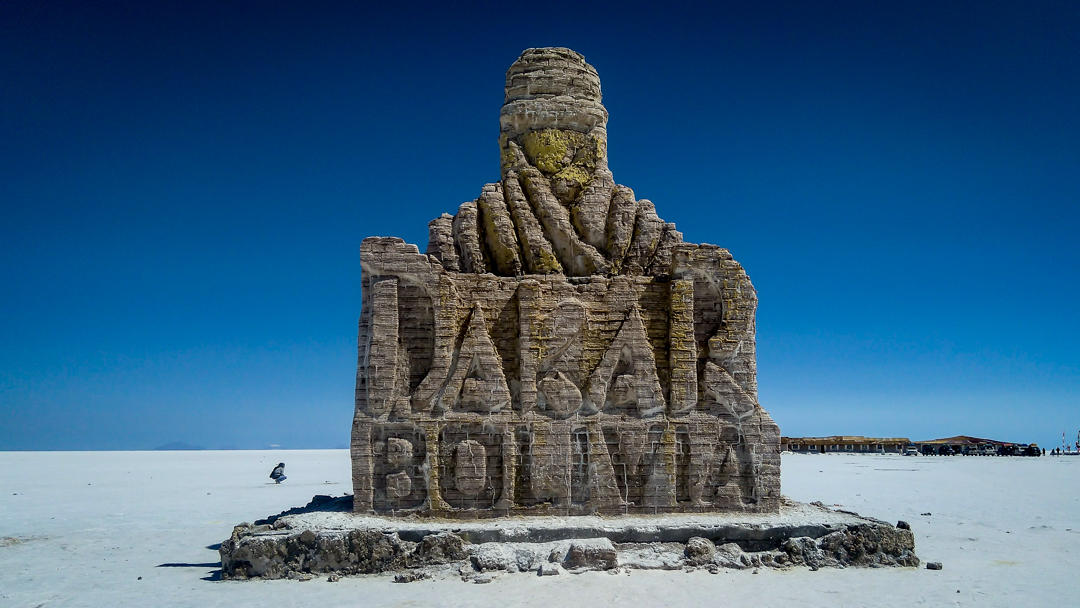 What is the best time to visit Salar de Uyuni?
Salar de Uyuni has its monsoon season between December to March. You would get great reflection pictures during this time as the Salar becomes a natural mirror. The sky would reflect in the water.
But these monsoon months would receive heavy rainfall. Word of caution — salt flats become very unpredictable and swampy in the rains.
Not all areas of the Salar may reachable.
Salar's dry months are from April to November. You can travel comfortably in the dry seasons but you will have to compromise on the reflection pictures.
Choose between the dry season and monsoon as per your priorities. Prices during the two times might also differ.
Also make sure that if you are driving to the Salar yourself, the monsoon seasons might be a bit tricky to drive for water collects in the salt flats in the rainy season.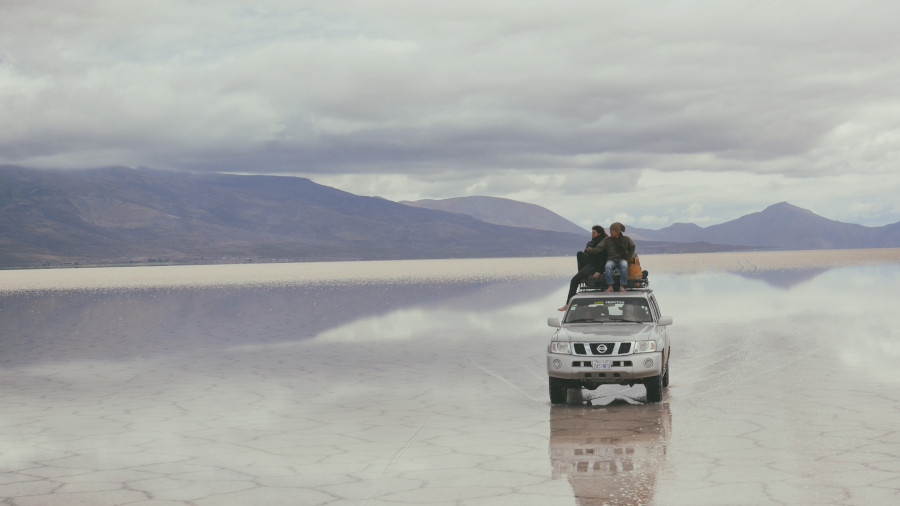 photo via unsplash
How many days should you spend in Uyuni?
You do not need to stay for a long time in Uyuni as the town doesn't offer much to see. It is just an access point to the Salar.
One or two days should be more than enough. But if you feel sick, please rest as once you start your trip to the salt flats, the terrain even gets rougher. You wouldn't be able to enjoy the Salar as your altitude sickness might get worse there.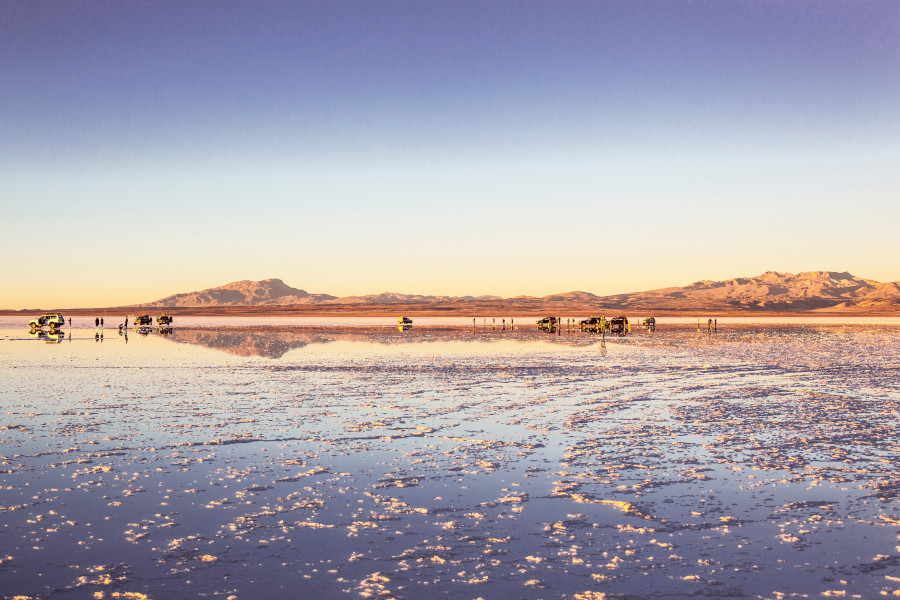 photo source
Where to stay in Uyuni?
Uyuni is a simple town, and you cannot find four or five-star hotels there. You can look for some decent hotels on Booking.
Our recommendations in Uyuni — Hostal La Magia de Uyuni – heaters in the room and hot shower, Hotel Jardines de Uyuni – a pool, spa, buffet breakfast, and central heating, Onkel Inn Wagon Sleepbox Uyuni – train wagon like heated rooms, and hotel Jumari – good hot shower with breakfast.
How to deal with the high altitude?
The altitude of Salar de Uyuni goes above 3,500 meters. You need to stay hydrated and rest well.
When you arrive in Bolivia, before heading to any high-altitude places, acclimatize for a few days. If you have landed in La Paz, stay put for a couple of days and see how your body reacts to the elevation. If you don't feel well, you can always go to lower areas of Bolivia such as Samaipata and Santa Cruz and then slowly make your way to the higher altitude places.
Carry high-altitude sickness medicine.
If you feel you are getting sick then ask the guides to drive you back to Uyuni. Although the guides are expert drivers, sometimes they don't pay much attention to the seriousness of sickness. Insist, if you have to.
Drink coca tea and chew coca leaves. Coca is the same plant from which cocaine is made. Bolivians drink the tea of coca leaves to prevent altitude sickness. They will suggest you do the same. You can buy coca leaves in the market. Or you can ask your hostel or hotel to give you some coca tea.
How to go to Salar de Uyuni — with a tour or self-drive?
The salt reserve covers an area of 4,000 square miles. Driving through such huge, unknown reserve would be a difficult task. Also remember that the landscape is weird, and no matter in which direction you look, everything appears the same.
The best way to travel through Salar de Uyuni could be to book a three-day or a four-day tour with a travel agency in Uyuni.
Unless you are going for something special, the Uyuni salt flats tour for four days would be around $100-$200 for two people. Try asking around Uyuni to find the best travel agency.
If you book a one-day tour, remember that you won't be able to see the colored lake or the Laguna Colarada in the Atacama desert. The regular four-days tour also takes the tourists to many other places like geysers, rock formations, natural hot springs, and the fish island. On a one-day tour, you will only be able to see a few of these unique landscapes. Choose as per your time and interests.
What would you see on a tour to Salar de Uyuni tour?
The tour would explore the white Salt flats for four days. Prepare yourself for not the most comfortable trip.
Your first stop would be the Train Graveyard. The Bolivian train line was demolished by the indigenous people and now only the junk is left. Go up the old train engines and coaches to see the Salar from up top.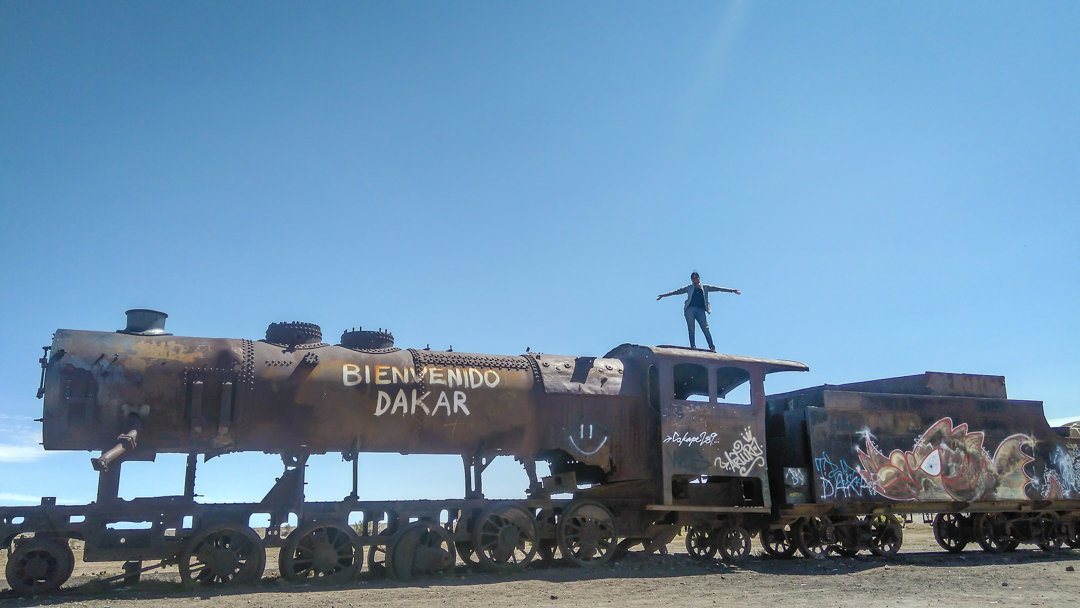 Salt flats have some unique rock creations. One is like a tree. Other are more jugged, but can still be climbed. The guides stop at many of these rock formations. Walk around and have fun. Make sure that you don't slip. Some of the rocks seem too easy to climb but aren't.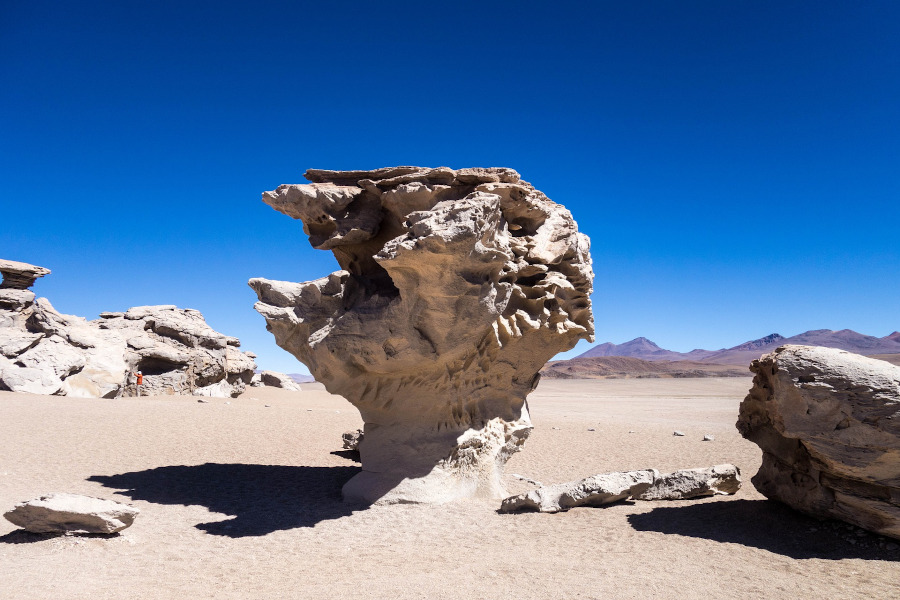 photo source
If you have never seen steam shoot out of the ground at full speed, this is your chance. Uyuni salt flats have many geysers. Visit the geysers early morning (your guides would take care of this) to get the best view.
You would get a chance to see Laguna Colorado. Click pictures of the red lakes with a blue sky and pink flamingoes as models. but remember to stay away from the flamingoes as this is a reserved area and dedicated to the nesting of the beautiful birds.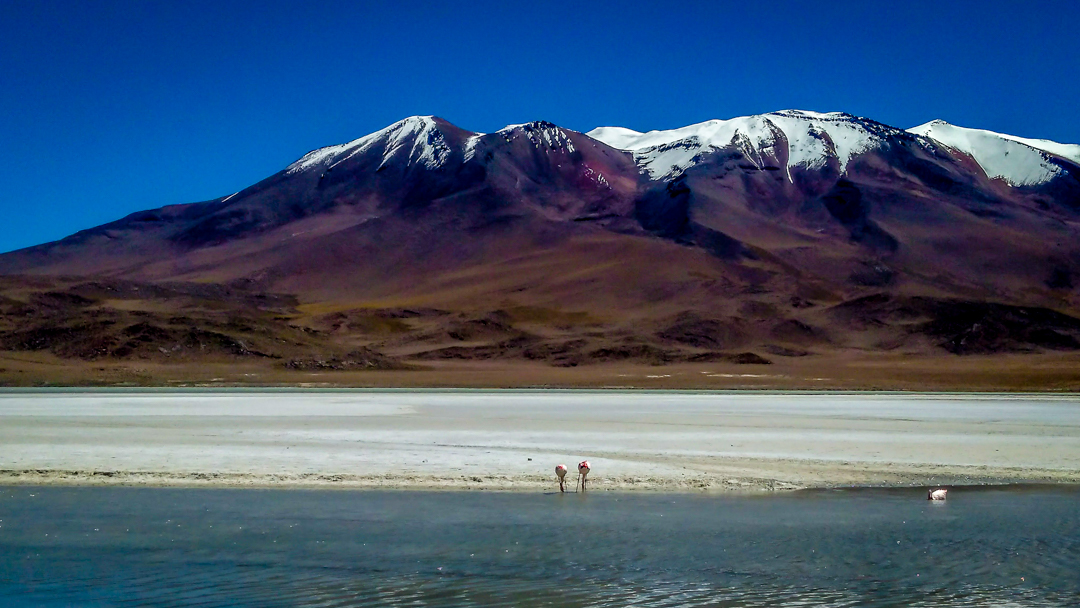 Do ask your guides what gives the lake its color.
The tour would take you to Fish Island. This island has a lot of tall cacti growing on it. You might want to watch your step before losing yourself in clicking pictures. The view from the top of the island is amazing.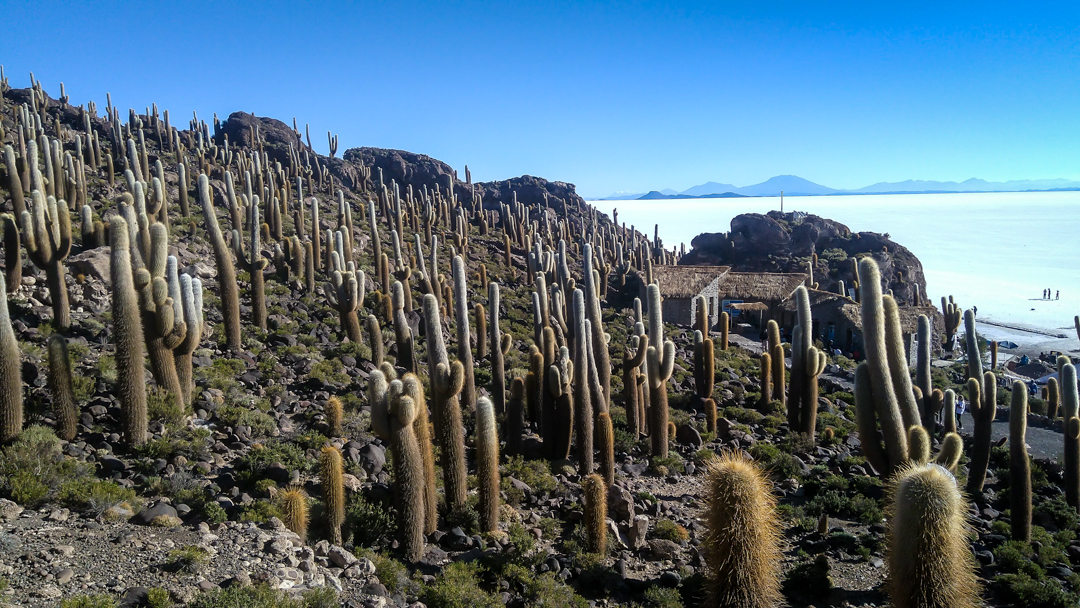 Every tour would take you to the natural hot springs to bathe. Try to get a tour that stays in a hotel near the hot springs so that you can bathe at night.
Some of these tour companies that say near the hot springs for the night are Red Planet and Quechua.
How to take pictures in Salar de Uyuni?
Believe me, clicking pictures in Uyuni salt flats is an art.
Objects closer to the camera seem larger in the Salar. Use this trick to create your illusion shots.
Although the guides bring along props, you can carry small toys or bottles to create your own formations.
During monsoon, water accumulates over the salt surface and becomes a perfect mirror for salt lies underneath. If you are in the salt flats in the rainy season, go to an area where there are no other tourists. Admire the earth and sky that seems like one. Click reflection pictures.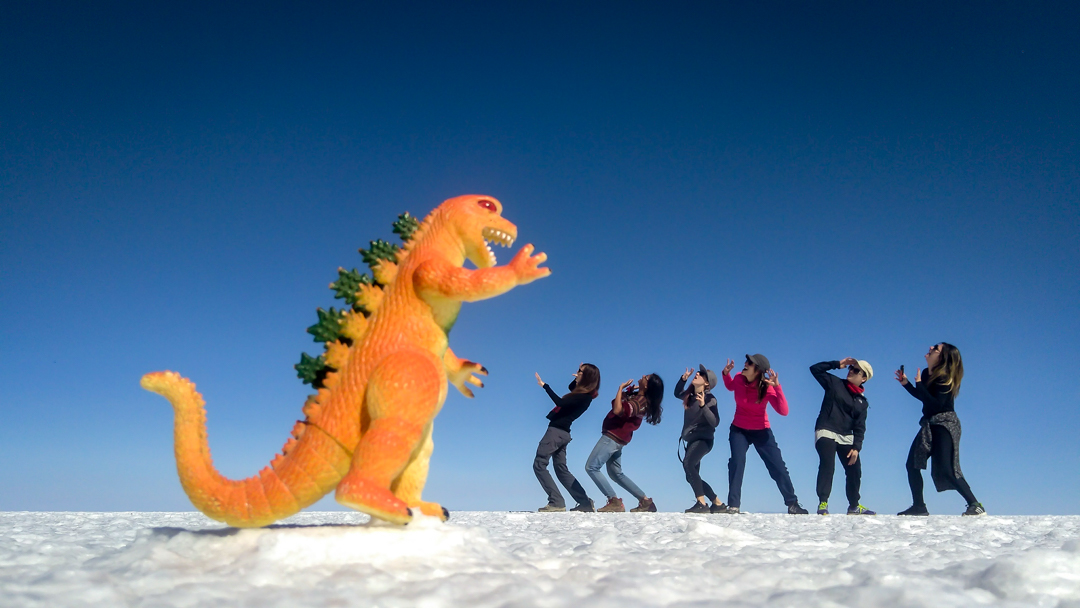 Should you reserve a tour to the Salt flats way ahead of time?
There are hundreds of travel agencies in Uyuni that arranges the tour to the Salar. So if someone tells you that the tours would get all booked and you won't find space, that's not true.
If you want to travel with a specific company, you might want to check with them beforehand or keep an extra day to get onto their waiting list.
Redplanet and Quechua are popular as they stay near the hot springs. You may have to pre-book them if you want to enjoy the hot pools at night.
How much the tour to Salar de Uyuni costs?
The price of the tour depends on the company. But on an average the travel agency charges about 100-200 dollars for a four-days and three-nights tour. Private tours and RedPlanet tours are more costly.
What is included in the tour to Salar de Uyuni?
The stay for three nights in a four day and three-nights tour. But remember that the stays aren't the most comfortable. At one or two hotels, the bathrooms would be shared.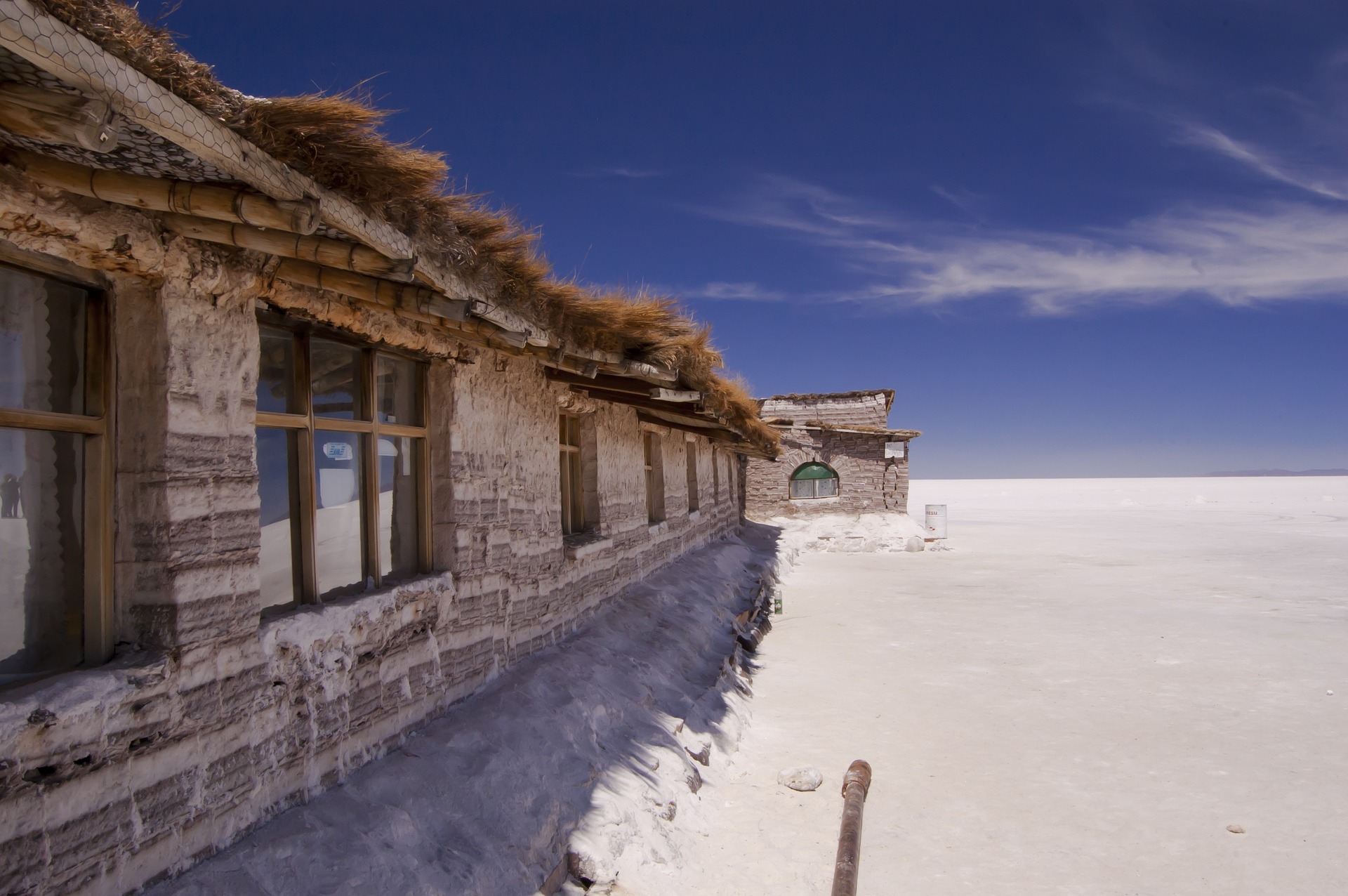 photo via Pixabay
Breakfast, lunch, and dinner. Water is also provided by the tour company.
Pick up from Uyuni and return to Uyuni. You might have to go to the tour agency when the tour starts.
Guide and travel within the salt flats. Driving on the salt flats can get really tiring as you drive throughout the day visiting various landscapes on the go. Drink water. Change seats to relax your legs.
The tours are private and shared. A normal SUV that goes can have six people in the car. So the tours are normally shared with strangers.
Check with the tour agency if you want to go for a private tour.
What to pack for a tour to Salar de Uyuni?
Rain jackets. Umbrella wouldn't work for the Salar is too windy sometimes.
Thick jackets, gloves, cap, and a scarf. Even in the hottest months in Bolivia, you would feel cold in the salt flats for you will get up before dawn a few times to visit the geysers or some other location.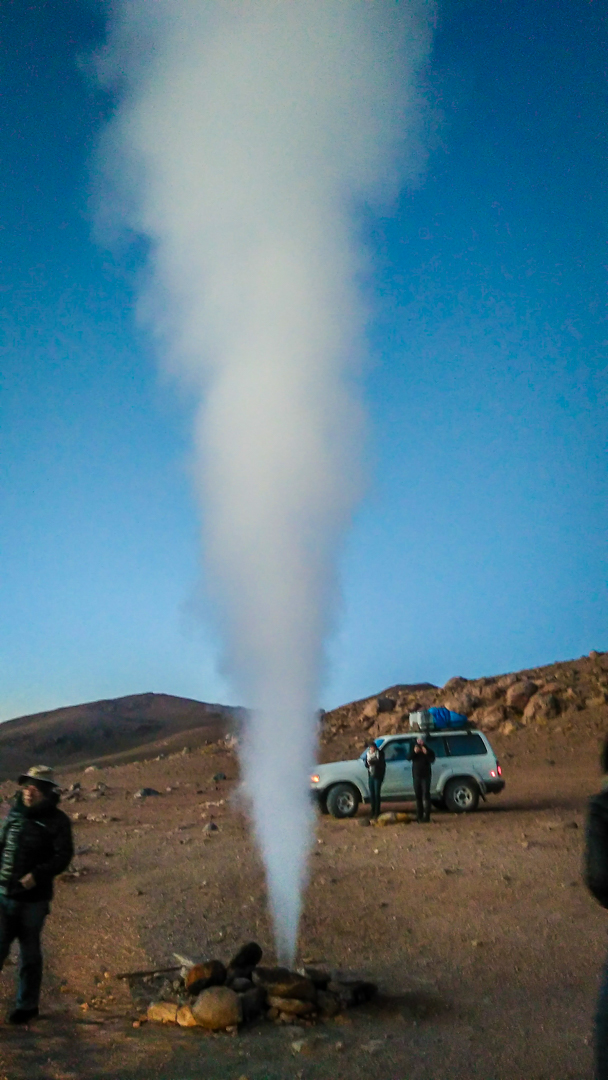 Sunscreen and basic medicines including altitude sickness pills. Remember there are no pharmacies in the Salar.
A good camera and some props.
Toiletries and swimsuits.
If you are traveling with children, take extra care for the weather in the Salar is extreme. Bring more warm clothes.
What to eat on the salt flats tour?
You would get a buffet for lunch and dinner with non-vegetarian and vegetarian options. Breakfast would be mostly tea, coffee, and toast.
If you like, you can carry some snacks to munch in between meals.
Visiting the salt flats is truly an experience of a lifetime because of the surreal landscape of the Salar. Salar de Uyuni is definitely one of the most beautiful places in the world, and you would know when you see them.
Hope these best tips for Salar de Uyuni helps you to have a fun and comfortable stay in the Salar. Enjoy your time there and create some hilarious memories.
Please leave your questions or remarks in the comments section.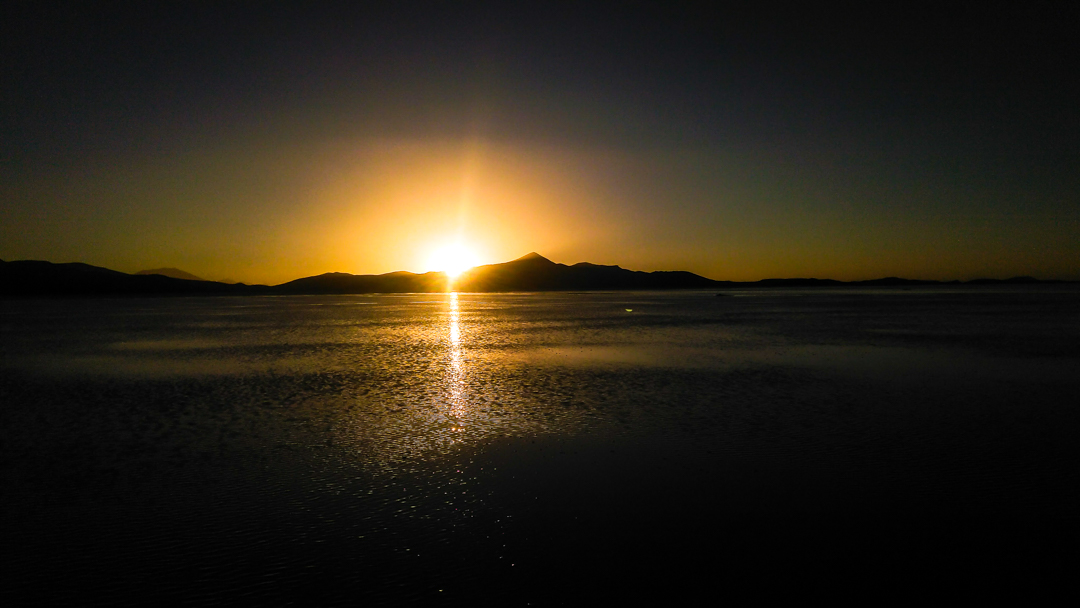 About the author:
Priyanka Gupta is an itinerant travel blogger from India who left her investment banking career to travel the world and write. Having traveled extensively thorough South America, solo, Priyanka is now based out of India. She focuses on culturally immersive travel while relishing local delicacies and never missing a chance to see wildlife. Priyanka blogs full-time and claims to know the art of blogging from even the camps in the wild.
Read her best ideas and travel stories on her blog On My Canvas. You can follow Priyanka on Instagram and Twitter to get live updates on her journey.