3 Aquariums to visit in Florida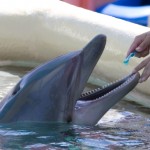 Sea and ocean flora and fauna are truly special, and Florida has a number of parks and aquariums that definitely deserve a visit. No matter which one you'll choose in the end, you will have a great time. Seeing dolphins – or even swim with them – killer whales, a wide range of fish and other sea creatures swimming free, close to you is something one must not miss.
I admit I like going to such places. I like watching the lovely shows marine creatures and their trainers put together. I love those moments and live them with the pure joy of a child. In fact, I can hardly wait to take my son to such places, as he already loves animals.
If you get to Florida, especially since there are so many flights to Florida, you can admire these beautiful creatures in a number of marvelous places. Here are three such aquariums that you could consider for your trip.
The Florida Aquarium
Perhaps one of the most amazing experiences when it comes to sea life is to see it as close as possible. At The Florida Aquarium, you can become immersed in guest dive programs. Kids over 6 years can swim with the fishes, while people 15 and older can get face to face with massive sharks in the aquarium's largest exhibit during Dive with the Sharks. You can also choose to go on a dolphin cruise and see those lovely dolphins at home, in Tampa Bay. 500 bottlenose dolphins can be admired here, so it is definitely a great place to go to if you want to admire these beautiful, joyful and smart creatures.
Miami Seaquarium
Do you want to see dolphins as they perform breathtaking leaps and rolls? Are you in for a show with a killer whale and a dolphin? Do you want to see the funny show of a sea lion? Do you want to meet, directly, some dolphins?
If you are ready to put a wetsuit, meet trainers, see beautiful shows and enjoy the amazing exhibits, then Miami Seaquarium is the place for you. Many tourist attraction, all amazing, for people of all ages. Make sure to check their website and plan your visit there!
SeaWorld Orlando
If you will choose SeaWorld Orlando, then you will definitely have an unforgettable experience. This themed park provides world-class shows as well as some really thrilling rides. Visitors will also experience close encounters with beautiful and impressive killer whales, sea lions, dolphins and others.