Koh Samui, luxury in Paradise
Koh Samui isn't just a beautiful beach paradise where you can enjoy the fresh sea breeze and have a long and delightful sun bath next to the exotic palm trees. It is also a lavishing destination that attracts travellers who are looking for a luxurious stay at a high end villa with modern amenities and world-class spa treatments. It is an idyllic island where unbelievably beautiful nature meets the opulence of the finest accommodation units.
Koh Samui wasn't always such an up-scale getaway. Once it was just another spectacular island from the Gulf of Thailand where backpackers used to come for a cheap and delightful holiday on the beach. It began to change more than five years ago, when the notorious Four Seasons built their resort on one of the coconut plantations of Koh Samui. At that time, it was the only accommodation option that provided access to a private beach and it included 74 hillside villas that had their very own infinity pools.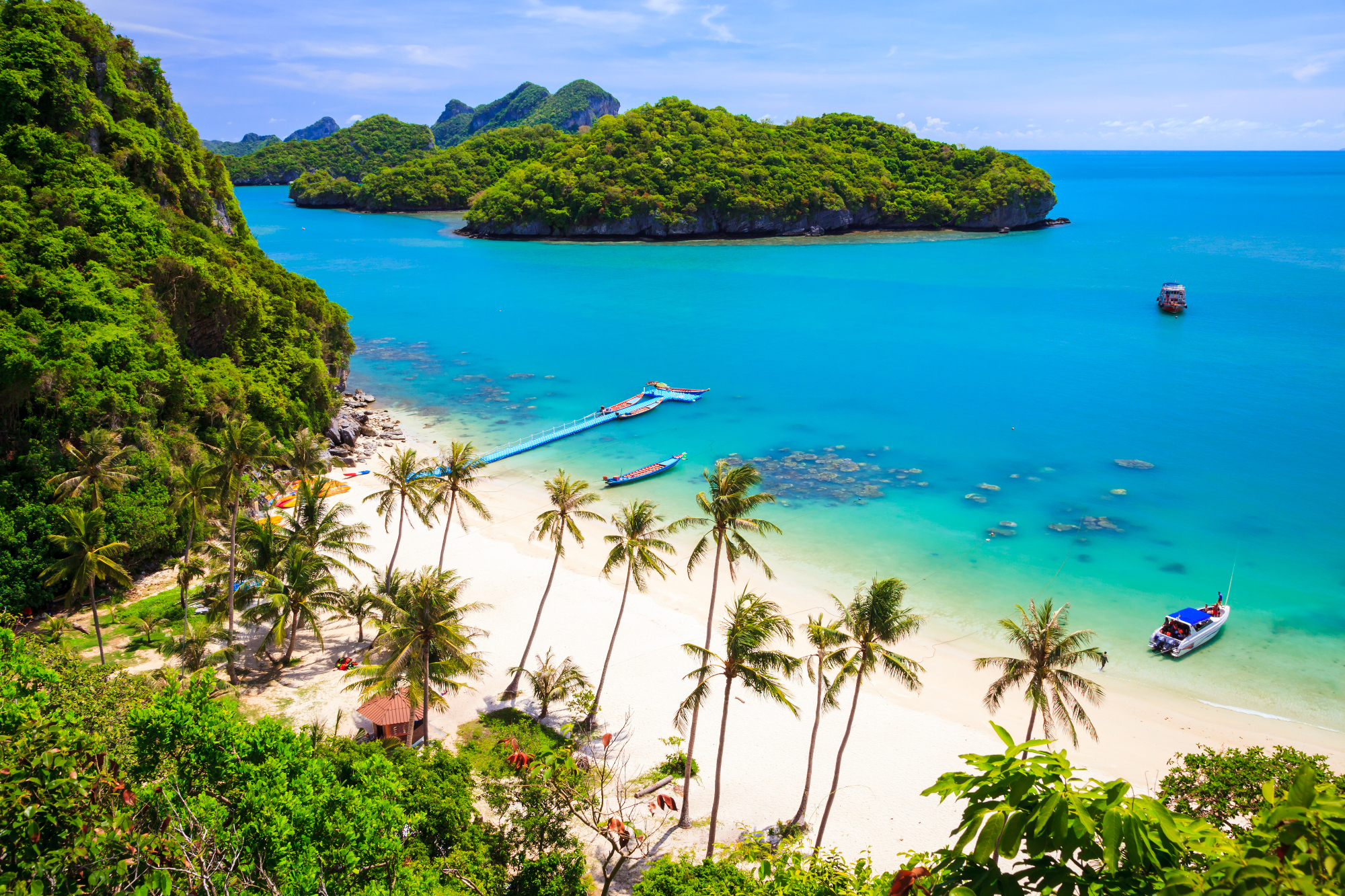 Bird eye view of Angthong national marine park, Koh Samui, Suratthani, Thailand, photo from Shutterstock
Soon tourists from all around the globe started coming here searching for the luxury of a private and extravagant villa and the tranquility of a white sand beach surrounded by deep blue waters. The wave of high end tourists got the attention of investors and so new and elegant hotels, villas and bungalows were built. The island changed forever. Instead of run-down hostels and cheap bars, travellers now have the opportunity of staying at one of the countless high end Samui accommodations.
Koh Samui has everything you could possibly want from an exotic vacation. It doesn't offer just luxury villas and spa treatments. It also offers the opportunity of experiencing the most daring sports and activities, such as kite-boarding, diving, snorkeling, kayaking, sea walking, zip-lining or elephant trekking. Or you can choose to go on a tour on the nearby islands that are part of the Angthong National Marine Park, explore the rainforests or see the beautiful waterfalls.
For those who are looking to dine stylishly, party in the coolest lounges and do some serious shopping, Koh Samui has many things to offer. The food here is a delicious mix of both local Thai savors and the finest international tastes. There are beach bars with traditional snacks or high end restaurants that spoil your senses in the most lavishing way. And the night-life on the island is simply vibrant, unique and loud. You can choose to party in a beach club, funky disco or elegant lounge. There are many options for all budgets and tastes. And if shopping is your thing then you will be delighted to visit the local mall, traditional fairs, small shops and supermarkets.
So if you are looking for a great exotic getaway where you can experience the lust of a dreamy private beach and the comfort and intimacy of a luxury villa then Koh Samui is probably the right choice for you. This idyllic Thai island is the ultimate modern paradise.