The Cultural Malaysian Properties included in the UNESCO World Heritage List
You most certainly saw some photos of the Petronas Twin Tower in Kuala Lumpur, Malaysia. You might also know about the Bako National Park in Sarawak and you may have even heard about Dhammikarama Burmese Buddhist Temple (quite impressive, I might add, from what I see online) or the Formula 1 race held in Malaysia, but I am curious if you know which sites from this part of the world are included in the UNESCO World Heritage List. There are only four of them, two cultural and two natural. I wanted to present you today the two cultural sites included by the UNESCO in its famous list so that maybe when you look for Malaysia holiday packages you will consider including these places in your visit there.
Melaka and George Town, Historic Cities of the Straits of Malacca
This is the first cultural property in Malaysia included by UNESCO in its famous list in 2008. as this is an area that was used for trading and cultural exchanges between East and West in the Straits of Malacca for over 500 years, there was a lot of cultural exchange as well. The influences can be observed in the design of the buildings and not only. If we were to cite from the official presentation on the UNESCO's website, we would have to say that "The two towns constitute a unique architectural and cultural townscape without parallel anywhere in East and Southeast Asia."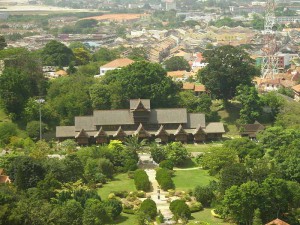 photo source
The Archaeological Heritage of the Lenggong Valley
A history of almost 2 million years, one of the longest records of early man in a single locality, and the oldest outside the African continent was only logical to be included in the UNESCO World Heritage List. The Archaeological Heritage of the Lenggong Valley, consisting of four archaeological sites in two clusters was included in this list in 2012. the official presentation mentions:
"Within the large karst outcrop of Bukit Kepala Gajah are 20 caves. Three of these, Gua Gunung Runtuh, Gua Teluk Kelawar and Gua Kajang, have revealed prehistoric burials.
Together these four sites in two clusters sites represent the sequence of significant stages in human history unrivalled in the region."
As you can see, these two sites were recently included in UNESCO's list, but they are valuable properties that have to be preserved – managing visitor impacts on the sites is always a challenge in any part of the world as not all people who go see a place want to leave it as it is, in order to be admired by others too, and some even feel the need to leave a mark (often in the form of a graffiti or even scratching the surfaces and writing love messages or other types of messages).