I've been to Varna several times before but this trip had something different, something that needed to be shared. Putting aside the fact that new malls and office buildings erect at a pretty fast rate, Varna still qualifies as a sea resort and knows how to make a stay pleasant.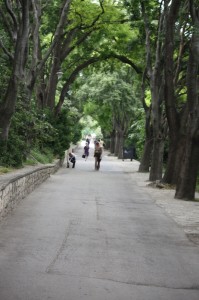 First thing that got my attention was the reconstruction of some parts of the main park. In case you didn't know, Varna has an impressive park by the sea – the Sea Garden (Морска Градина) – a very peaceful and relaxing place within the city. It is quite vast – goes all the way to St. Constantine and Elena resort – and you can find restaurants, coffee places, summer theaters with daily performances, hotels, and even museums and historical remains.
The long alleys are surrounded by tall vegetation cooling down the summer temperatures. The interesting part is that the park was designed in such a way that wherever you are there must be something interesting to see/do, especially if you are accompanied by children: the biggest children's playground is located in the park – Detski Kat. You can safely drop your kids there while enjoying a cup of coffee or some juice at one of the coffee places around the playground.
The grown-ups also have plenty of places where they can enjoy some physical exercise: tennis and football courts – as I understood they're free of charge during the week, jogging, biking, and some low level extreme sports hosted by a place called Tarzan – it replicates jungle life (lianas, rope ladders, rope bridges, etc.).
The Sea Garden hosts Varna's Aquarium, the Zoo, and the Dolphinarium. They represent important tourist attractions which you can easily check while walking along the park. Personally, I was impressed by the National Naval Museum (very close to the aquarium) where you can find helicopters, warships, and all kinds of old military equipment in good condition.
Second thing that got my attention was the newly restored parts around the city's beach. The road along the beach is brand new and there are plenty of parking places where you can easily and safely leave your car, free of charge. The beach is clean with white soft sand. The gentle slope towards the water makes it perfect for sunbathing and swimming. Volleyball enthusiasts can use the volleyball net installed on the beach. Around the beach road there are restaurants and bars where you can have lunch or drink some cold beer with delicious European Sprat (Цаца). You can check the prices before sitting at a table. Usually beach restaurants are a bit more expensive but I managed to find an exception – Restaurant Hawai (that's how they spell it), which provides free wireless as well.
So, if you pass by Varna one day, I suggest you go around the huge park and try their white soft sand as well.