Zipser Hotel – in Vienna, Austria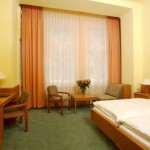 The first time I was in Vienna, capital of Austria, I checked in at the Zipser Hotel.
The history of this hotel starts a long way back, in 1904. "Beginning in 1905, it was used as a home for young girls, and shortly afterwards it was rebuilt into the 'Pension Zipser' with 11 single bedrooms and 2 double bedrooms." How it evolved into what it is today you can find out from the official story posted on the Zipser Hotel's own website.
We, Ave and I, reserved our room using Booking.com. We were going to stay in Vienna for only two nights – and we chose a three star hotel in the center of the city. We wanted wireless Internet in the room and we also needed help with a parking place. The hotel does not have it's own parking (this is indeed a weak point for those traveling by car), but it had a special deal with a nearby parking – 14 euros by night. To be remembered that parking IN Vienna is usually VERY expensive – so either leave your car outside or at the special large parking lots dedicated to the visitors.
We were delighted by the interior – the ground floor is neatly arranged. The staff is friendly and prompt in solving any potential issue. Make sure to mention what you want from the beginning and double check all your receipts. The food (breakfast) is excellent and varied from day to day. Many opportunities – almost anything you would want to eat for breakfast is there (which is a great thing when you have to stay longer). The room was also more than ok, so no complaints here either.
You can see some pictures from the hotel on the official website, here.
*photo credits: zipser.at