Unique ways to make your Cyprus holiday one-of-a-kind
With flights to Cyprus operating everyday, it's quickly becoming the destination of choice for travelers from all over Europe and abroad. Warm turquoise waters, hidden beaches, buzzing nightlife and plenty of history – there is no shortage of things to do here.
Between soaking up the sun, sipping on espressos and feasting on fruits of the sea, here are some unique things to do that will make your Cyprus holiday one of a kind.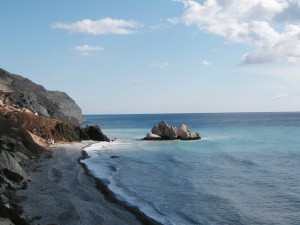 Discover the home of Disney's Sleeping Beauty
The St. Hilarion Castle is believed to be the inspiration behind one of Disney's most classical fairytales. This spectacular castle is built into the Kyrenia mountain range in the north of Cyprus. From its high vantage point, it offers breath-taking views that span all the way across to Turkey.
Start a trend with a designer piece from this up-and-coming fashion hotspot
Cyprus is carving out its place in the European and international fashion scene. Be one of the first to check out these local designers, who are making their names known around the world: Stalo Markides' hand bags, Kyriaki Costa's sleek attire and Skevi Afantiti's original jewelry.
Try these Cyprus originals: halloumi and perfume were both created here!
Contrary to popular belief this cheese variety, delicious when fried, originates in Cyprus not Greece and is a must-have delicacy on your visit. Perfume making also started here over 4,000 years ago in the era of Aphrodite! Pick up and ancient scent from a local store or market.
Once you've discovered some of the less known gems unique to Cyprus, go on and indulge in the rest! Enjoy the lively taverns, barefoot beach bar parties and open-air fresh seafood dining… It's easy to make your Cyprus holiday unforgettable.