What to eat in the beautiful and unique Prague!
Situated in the heart of Europe, Prague is one of the cities that it's definitely worth-seeing. With its narrow streets, colorful houses and touristy atmosphere, you will soon find yourself in a town which bristles with energy.
This time I want you to simply experience the unique blend of tastes from the Czech cuisine because evenings spent with some friends over a glass of exquisite wine or a delicious beer and plates full of local delicacies are simply magical.
But let's take it step by step!
In Prague, people spend their days working, shopping and sitting in cafés, so to find a table at lunch-time takes a lot of concentration and ability. But after a short exploration of the city in the morning, you should take a rest in a teahouse or a café, where time stands still and the only sounds are the whisperings of your table neighbors. I don't even really like coffee all that much, but believe me that after visiting Prague, I will never forget the taste of the unique mix of coffee, chocolate and caramel. And the best thing was that everywhere they had a special offer: a cup of coffee or tea with a cake included. Simply divine!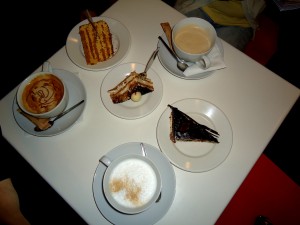 For the lunch time you have two options: you choose to eat something in the main square or in a fine restaurant. As far as I am concerned, in order to feel the unique atmosphere of the city you should experience and enjoy both of them. In the main square, situated in the Old Town Quarter, you can taste all kinds of sausages, pork meet, potato chips or drink beer from the stands all around.
On the other hand, you can choose to eat at a restaurant in the center, even though it is a little bit expensive, or to find one somewhere on the narrow and romantic streets. It is full of them and you can decide what to eat before entering, as in front of most of them there is a menu exposed with prices and photos of the dishes.
The traditional starter is a soup and you can choose a tomato soup served with cheese or a mushroom one served with bread and a mixture of butter and spices. Czech cuisine is quite heavy, the traditional plate always includes lots of meat, usually pork, served with potato dumplings. Even though it could be a little bit too sweet for some tastes, it's worth to try it.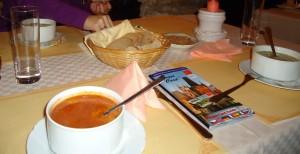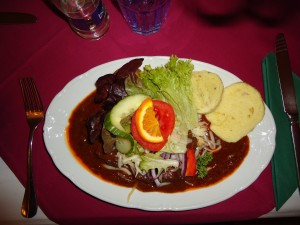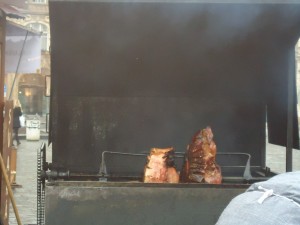 But if you aren't a pork aficionado, you can always try chicken stuffed with Prague ham or cheese and served with baked or fried potatoes. A chocolate cake with honey and nuts or a piece of apple pie with vanilla ice cream and some cream for the dessert will be just the thing! And don't forget to wash them down with some Czech beer, said to be the best in the world, or a glass of fine wine! What else could one wish for?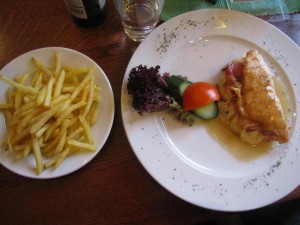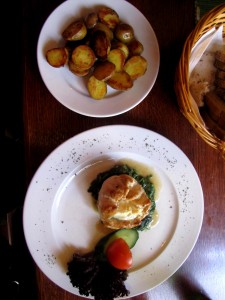 I bet I just made you hungry (or thirsty), so book a flight and go to Prague! You will definitely not regret the experience!
What is your favorite dish tasted in Prague or somewhere in the world? 🙂