5 Sights Not To Be Missed In Edinburgh
Edinburgh is obviously one of the world's greatest cities. It sits up there with London, Paris, Berlin, Stockholm, Rome, Venice and Moscow for incredible history, stunning scenery and a ridiculous amount of sights to try and cram into a short visit. Which is what a lot of people give themselves when they come to Edinburgh, probably because there are a lot more places to visit in Scotland than the capital. So what are the must see sights?
Edinburgh Castle
It's big, it's right in the very middle of the city and you really can't miss it, even if you wanted to. You do have to go up a bit of a hill to get there but when you're in, you not only get amazing views all the way to the sea, you can explore the fascinating history of this instantly recognising building. Cost: About £15 for adults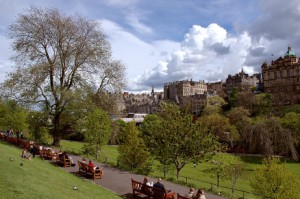 Arthur's Seat
The only thing higher than the castle in Edinburgh is a majestic hill called Arthur's Seat. Called as such because it apparently looks like a seat and some believe it has something to do with King Arthur. It rises out of Holyrood Park and is conveniently positioned next to the palace and parliament. It takes about 30 minutes to get to the top and there are very easy routes (mostly because of the road) or hard routes that require rock climbing skills, but either way the views are worth it. Cost: £0
Royal Mile
Meandering down the hill from the castle is a mile of winding road cobbled with a historical monuments and gruesome medieval tales. You can't go a block without seeing something fascinating and with all the restaurants and cafes in between, it may be the longest you'll ever take to walk a mile.
Princess Street and Beyond
If shopping is your bag, then spending some time on Edinburgh's showcase street will suit you down to the ground. It has all the big stores on one side and a glorious green park opposite for the odd rest stop. Plus behind Princess Street you have Rose Street, for quirky shops and behind that, there's George Street where the really expensive stores will wow you in one breath and gobble your cash on the other.
Dean Village
While even some locals may not know about this gem, Dean Village should be on the face of every tourist brochure. It is basically a small village just on the north west tip of the centre of town that will walk you down to an oasis of calm flowing water below the city buzz. If you venture just a short distance beyond its tranquil valley floor, you will find yourself at Dean Gallery. This modern art gallery has been home to some of the world's finest modern artists and from its gorgeous setting through to its absorbing and sometime controversial works, you will be glad to have a couple of hours away from the typical tourist spots.
Hogan Wash is an Edinburgh accommodation manager who has lived in the city for many years. He believes the apartments in Edinburgh are second to none when it comes to style and comfort.