Tourism Companies Now Able to Connect with Travelers in Their Native Language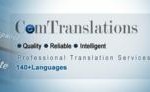 One of the obstacles travelers have to face in their travel planning and during actual trips is language barriers. Regardless of our individual level of education, we still cannot really learn all the languages we'd need for all the countries and spots we want to visit. Therefore, being able to have conversations with tourism brands in our own mother tongue or in a language we understand would be a great help. SociaLingo by ComTranslations offers travel companies from across the globe that very possibility through near real-time social media translations.
Think of it like this – if you are interested in finding out more about a hotel, a destination, a restaurant or museum, you can check out their social media profiles – be it Facebook, Twitter, YouTube, Google+ or Pinterest or any other channel they might be using, and interact in one of the 140 languages supported by SociaLingo.
To make things easier and avoid those awkward, hard to actually understand, automatic translations, such as the gems one sometimes runs across when using Google Translate for example, SociaLingo does not use any automatic translation software. The social media messages are actually translated by native translators, a huge team of very well prepared people, who localize companies' social media updates, answers and suggestions.
As Carlos Garcia, ComTranslations CEO, mentioned, about 50% of social media users communicate in languages other than English. I would estimate just as many travel companies are from countries that are not English speaking. Match for example a Dutch social media profile that has the occasional English updates with a French speaker, and you have quite a language problem. From a traveler's perspective, one that uses Facebook, Twitter or Pinterest to research new places to visit, SociaLingo sounds like an awesome idea for all tourism companies.