The Thief Hotel in Oslo Invites you to Sleep with a Rock Star in the New Apparatjik Suite
You might think you saw it all when it comes to hotels and design and atmosphere inventiveness, but The Thief Hotel in Oslo might beg to differ. The 117 room hotel just launched the Apparatjik Suite, one that breaks many rules in terms of creativity. The art- and music-collective in Apparatjik consists of Coldplay's bass player Guy Berryman, a-ha member Magne Furuholmen, Mew-singer/guitarist Jonas Bjerre, and Grammy winning music-producer Martin Terefe. But that's not all! The main "ingredient" of this room is that you can actually sleep with your favorite rock star! You can choose a projected version of your favorite Apparatjik member sleeping next to you on the bed.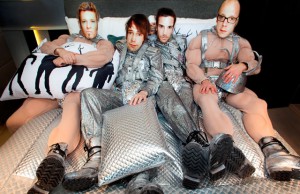 "I think we have injected an ambiance of the unexpected into the room. We wanted to tweak the existing design into something that make guest's smile and shake their heads in disbelief at the same time. We believe disbelief is an underrated state of mind. One common denominator of all four founders of Apparatjik is that we have spent a disproportionately large part of our lives in hotel rooms. We believe it is not a hallmark achievement for a hotel that every room looks exactly the same", explains Magne Furuholmen.
This suite at the Thief could be indeed 'the world's most eclectic hotel-suite', as it is called in the official press release. It is an insane suite, "an eclectic mix of video, art, music, disco textiles and humorous installations created by the super group / art collective."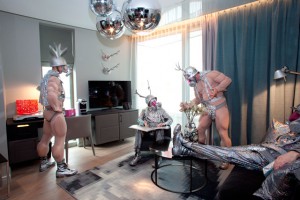 And if you still have questions, here is an official video that will shed more light on this new and inventive suite!