Everything you Need to Know about Italian Coffee in a Free Ebook
Two years ago I was talking with a friend of mine with the same first name – Loredana – as she got back from a visit in Rome. It was her first time in Italy and we sit and chat for hours about her experience there.
One of the things I remember very clearly is that the coffee there is a habit. Everyone drinks it in the morning, and she told me where in Rome she had the best coffee (some of the places were already know by her husband). Another element that was surprising was that the coffee she found to be the best wasn't a big one. Now, I drink coffee, rather strong one (sometimes dark, sometimes I add milk or sugar), but I remember thinking that the quantity she said was enough for her was very small.
And then she told me why and how that coffee was made – as she had been speaking with the person preparing it every morning. And it sort of made sense. I still have to check it on my own, as I am still not 100% convinced that I would found that coffee sufficient.
Going back to Italy and coffee, it is my pleasure to introduce you today the free ebook: Everything you need to know about Italian coffee from Charming Italy. I find this ebook interesting and useful as it presents a little bit about coffee's origins and its history in Italy. And, of course, you'll find all the types of coffee available presented – so that you can see how many they really are!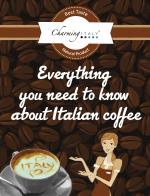 I won't tell you all the contents of the ebook, I'll just mention that it is an interesting one and it can be yours for free. All you need to do is to subscribe to CharmingItaly.com's newsletter 😉 So, what are you waiting for? Start downloading the ebook here.