JuiceCane, the Power Source for Your Gadgets when Traveling
We all rely heavily on our tech toys when we travel. Cameras, smartphones, tablets, music players, eReaders, we need it all for business and leisure trips alike. We keep most of our travel plans on our gadgets and use them to document our adventures, travel bloggers more so than any other non-business travelers.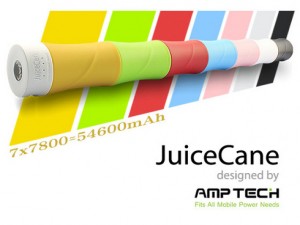 While mobile devices certainly make our lives easier, having us depend on them for a lot of what travel entails – from research to online bookings to maps and to sharing everything with our friends – and what projects need attention while on the road, they have one major problem – the smarter they get, the faster their battery runs out. JuiceCan, a mobile power bank that's stackable, turning into a colorful and very useful JuiceCane, is the answer to that problem. It enables travelers to charge their devices via USB and continue to enjoy their experience when there are no power outlets around or when they have failed to bring along their power adapters.
One small and portable JuiceCan (7.5 fl oz can size, 7 oz. weight) can charge your iPhone three times or your iPad twice. It comes in cute fruity colors, banana-white, blackberry-black, cherry-red, strawberry-pink, blueberry-blue, aloe-green, lemon-yellow.  If you need more power for your trip, you can turn a JuiceCan into JuiceCane by stacking up more to create a color coded sugarcane-like gadget.

The creators of JuiceCane have chosen an Indiegogo funding campaign to raise money to properly launch and distribute their new mobile power can. The cool part about such a funding initiative is that becoming an early investor actually gives you access to one or more JuiceCans at a lower price than the retail value, plus you get to be among the first people who get their new toy. Of course, lower investments help out, but the point is to help kick off the company while also getting to enjoy the benefits of this cool travel gadgets.
What do you think? Do you need such a device? Would it help you when traveling?