Free ebook: CharmingItaly.com presents you Top 10 places to visit in Tuscany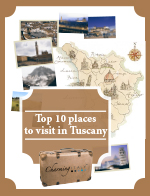 Tuscany is a splendid area, one that offers any tourist or traveller the opportunity to admire amazing scenery, romantic and lovely cities, see interesting architecture and meet kind people. CharmingItaly.com continues its series of interesting ebooks with "Top 10 places to visit in Tuscany". This ebook is available for free download on their website – you just need to subscribe to their newsletter.
The book features well known places – like Firenze or Pisa – and lesser known destinations that have a lot to offer to travellers. You'll find out which are the cities with medieval vestiges, what are the places included in the world heritage program, where you can admire the countryside and find out more about wines. You will also discover an Etruscan city carved into the tuff.
Synthesized information, lovely photos – all into a good ebook, one that you could use as a starting point when planning a trip to Tuscany!