Caffeine in sun cream may help protect against skin cancer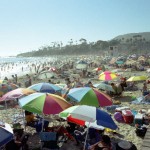 A study conducted on mice revealed that caffeine may help protect against some skin cancers. This is possible through the destruction of cells damaged by sunlight.
The research was conducted by Rutgers University. Rutgers Professor Allan Conney, director of the Susan Lehman Cullman Laboratory for Cancer Research, said "What is needed now is to do studies to see whether topical applications of caffeine inhibit sunlight-induced skin cancer, both by biological effect, as well as acting as a sunscreen,". (quoted here)
The results in mice study were impressive. "Conney tested the idea by creating genetically modified mice whose ATR genes were deficient and exposing them to ultraviolet light until they developed skin cancer. After 19 weeks of UV exposure, he found that these mice developed 69% fewer tumours than those that had fully functioning ATR genes. In addition, tumours in the GM mice developed three weeks later than in standard mice.
After 34 weeks of UV exposure, all the mice had developed tumours, mainly a type of non-melanoma cancer called squamous cell carcinoma (SCC). " (source)
It is known that caffeine is a good "aliment". The properties of this "ingredient" are not yet fully known. Studies need to be conducted in order to establish the true implications of coffee consumption in protecting against different diseases. Also, studies have to be conducted in order to fully comprehend the way caffeine should be used in order to help people – including in skin cancer prevention. However, the discover is an encouraging one.
Many people like to relax a good vacation on a beach. But exposure to sun is dangerous, unless one uses protection (cream). A cream that could offer a better protection will definitely be welcomed by travelers all over the world.
You can find out more about the study's results here.