WIHP DirectPack Brings Guaranteed ROI to Advertisers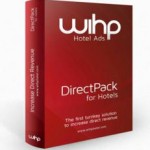 World Independent Hotel Promotion (WIHP) Partners with Trivago, the world's largest hotel search engine, in order to extend its DirectPack advertising platform and offer guaranteed ROI to advertisers. WIHP tests the channels thoroughly to measure the potential ROI for hotels, thus offering only tested advertising sites. In fact, recent testing of 50 WIHP client hotels showed an important ROI – over 10 times ROI 45 days for the investment made during this testing period.
"Because groups of hotels or independent hotels use different booking engines, they often don't have access to technology platforms that require complex and advanced programming. WIHP's experience with advertising on such platforms, added to the experience with independent hotels, makes us a unique partner for our hotel clients," stated Martin Soler, WIHP's Marketing Director. He added, "Adding a direct booking option to hotel's websites on Trivago is an excellent tool in any hotel's toolbox to increase their direct bookings and profits."
The advantage of DirectPack is that is the first complete online advertising solution developed exclusively to increase direct bookings to hotels. And that's something any hotel looks for: more bookings in order to have an as high as possible occupation rate.
In such a competitive world in which advertisers look for sites that will provide ROI and, in the end, business profit, and where publishers need advertising money for relevant ads, a service that helps all parts involved – advertisers, publishers and clients, that search for best hotel offers – is a necessary service.