What to do with your spare time on vacation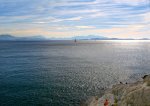 Vacation is synonym with relaxation, with experiencing new stuff, with seeing new and interesting places, with finding new things.
But when on vacation you have spare time. What do you do with it?
Let's see some ideas for when you are traveling abroad, in a country with a language you don't really know.
You walked all day, visiting some museums and who knows what else – and now it's evening. What do you do?
Try to visit (if your feet don't hurt too badly) a special place from where you can see the city by night (a tower, a special monument/building etc.);
Get out and enjoy a club or a coffee house – if you like in such places;
Read something – of course for that you have to bring with you at least one book (and, preferably, that book should be printed in a language you understand…);
Watch some TV; if the TV shows and movies are dubbed in the local language you should have access to some music channels;
See what happens during the day or talk to someone you miss – for that you're supposed to have computer and Internet access;
or… you can simply sleep.
These are of course some ideas. If you have any other suggestions please feel free to share them here. Have great spare time in your vacations!