The Throne of Napoleon and a Medallion
While at the Louvre Museum in Paris, I wanted to visit Napeoleon III's apartments and his throne. We got there towards the end of our tour, and we were not disappointed. We even had the luck to see Napoleon's throne without a crowd near by :).
It is not big – but then again it would have been inappropriate to be really tall – and from what I understand from the official presentation it is not with the original materials, but with some imitating the original colours and materials.
click on each photo for a larger view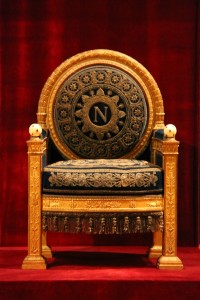 In front of this throne there is a great carpet with a medallion in the middle. This piece includes symbols of the empire and was delivered in 1810 for the marriage ceremony of Napoleon I and Marie-Louise.
This carpet was in the throne room at the Palais des Tuileries.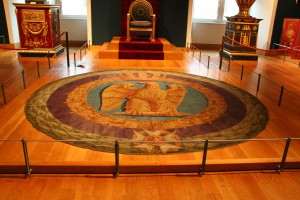 I will write a more comprehensive article on Napoleon III's aparments at the Louvre Museum.