The Most Beautiful Yachts in the World
Some dilemmas are common to all holiday goers; where to find the perfect resort, with great facilities for all the family, plenty of privacy without stinting on access to a range of excellent attractions. Those of us at the more humble end of the holiday scale may find what we are looking for in a private villa or quiet hotel but for the super-rich the answer is obvious; your own private super-yacht. For today's multi-multi-billionaires a small (or possibly quite large/massive) yacht is a must have item. They are following a fine tradition of how to get away from it all when you're indescribably wealthy, but risk should not be taken. In the past super-yachts were largely confined to crowned heads; the British, Russian and German Royal families trying to out-do each other in sheer luxury and elegance. While the days of Royal Yachts are now, more or less, confined to history (along with quite a lot of those crowned heads) the modern day uber-rich continue to follow this well established tradition. Aon provide superyacht insurance which will keep you in control of your beauty.
Modern Day Royal Yachts
Royalty and royal yachts have not been completely written out of history. The massively rich gulf oil states have a range of kings, princes and sheiks; hailing from the coastal Gulf States they also have a long history of sea-faring (Arab navigation techniques were far in advance of European ones for many centuries). So it should be no surprise that various rulers and titled billionaires in the region should prefer the privacy and seclusion of a super-yacht for those great escapes. One of the more spectacular of these home-from-homes at sea is the Platinum 525; launched in 2005 she was, at the time, the largest super-yacht going. At a massive 525 feet (the clue in the name refers to the length of the boat although it's unlikely she's constructed from Platinum) she features (naturally) helipads, observation decks and luxury-dripping guest suites. Despite being habitually surrounded by water there's a civilised swimming pool on board and a range of other sporting facilities including a Health Spa and squash courts. Originally built for the younger brother of Brunei's ruler it was bought by the ruler of the gulf state of Dubai, Sheik Mohammed bin-Rashid Al Makhtoum.
A Passion for Small Luxuries
The Platinum 525 was eventually eclipsed as the largest super-yacht by, well, the Eclipse. This miracle of the modern seas is owned by Roman Abramovich who is well known for his passion for luxury items (like Chelsea FC). Abramovich's super-yacht is a world of its own, featuring a private garden (yes, a garden on a yacht) and some basic facilities such as a cinema (yes, a cinema), and the standard features you'd expect such as swimming pools and a library. The yacht is actually available for private charter at around only $2 million per week – no mention is made of late fees for library books or sun bed hire – and presumably super-yacht insurance is thrown in. The main suite, on the top deck where presumably the multi-billionaire and all the little multi-billionaires hang out, is a staggering five thousand square feet. Security is tight on the yacht which is believed to be heavily armed and bomb proof. In fairness to the Abramovich family this is not unusual when it comes to super-yachts past and present; the Russian and British Royal yachts of old had similar precautions in place in the form of things called "the navy".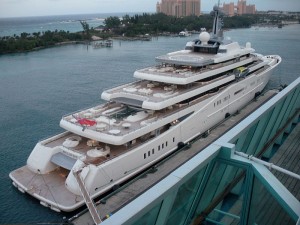 Ice Breakers
Russian billionaires feature high on the list of the super-yacht owning elite. Andrey Melnichenko owns the 390 foot 'A'. Quaintly he has chosen to name his yacht as many a proud fisherman has done in the past, after his wife (Aleksandra). Madame Melnichenko has a deck of her own on board, the top one, at a length of 80 foot, for sunbathing, relaxing and just getting away from the daily chores (by as many thousand miles as she likes). Hardly worth mentioning is the helipad although the marble lined interiors of the bathrooms are probably worth a mention. The boat is regularly seen cruising the waters of the Mediterranean but has been specially designed to break through ice if necessary, meaning that there really are very few limits as to where the Melnichenkos can choose as a destination.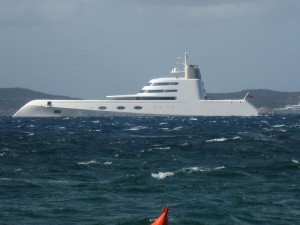 Photo on Wikipedia