Stay connected during traveling?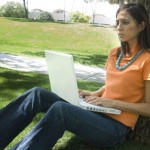 For me a vacation or a trip is a period off from every activity I normally would have to do. It is a break from work, from daily routine, it is a journey to the unknown.
I look forward to all that is new, to enjoy each sight I see, each monument, museum etc. that I visit. That is why for me usually a vacation is a trip that involves walking and visiting, not necessarily simply going somewhere to just stay there.
I usually like to write down some personal impression, something to capture the way I felt somewhere in order for an ulterior post to have that feeling included. But I write that in a note on my computer or on a paper notebook, not online. Maybe even in a draft on my blog (although quite rarely).
When I travel I like to also take a break from the Internet. My trips are usually at least a week long.
I usually share my experiences when I get back on blog posts dedicated to all the important points of interest for my readers.
I must though admit that when I'm booking a room somewhere it has to have an internet connection included. As I already mentioned, I do take a computer in vacation (I have to download the photos or movies my husband and I are making every day); I want to know that I can connect if I want to – to check my email and see if there is any emergency or stuff like that, but until now I didn't felt the need to offer a daily report on my vacation status.
But that's just me 🙂 and my experience until now. I'm not saying it's the perfect solution or that is wrong to keep everyone up to date with what you are doing in your vacation.
What do you choose when you travel? Do you stay connected or not? Why?