Take a Break Travel Showcases – The 12 Things That Make Las Vegas The Greatest City On Earth
The gambling capital of the world, the city of natural attractions, the marriage capital of the world, the perfect holiday gateway: Las Vegas is many things in one. You have to see Vegas to believe it. Las Vegas is the expression in concrete and glitter of America's mutating identity.
Las Vegas is the most quoted city on earth. Las Vegas is a place that oozes quotes from the enlightening to the funny. From Elvis Presley to Dennis Rodham, famous people always have something to say about Vegas and it is usually about the unique Vegas experience.
Frank Sinatra once said that in Las Vegas money talks. Louie Anderson frequently says that he has a warm place in his heart for Vegas. As for Drew Carey, "Las Vegas is everything that is right with America." Probably the greatest Las Vegas quote of all time is by Cinnamon Stomberger, "It is hard to think of a better desert oasis than Vegas." As for Elvis Presley: the king of rock and roll, the message was simple, "Man, I really like Vegas."
1. Why Tour the World, When You Can Visit Vegas?
Seriously, why should you tour the world when you can visit Vegas and see all the highlights in one place?
• Why even visit France? There is an entire French experience in Vegas. It starts at the Paris, Las Vegas. This is a French-themed resort with a half-size Eiffel Tower and other French landmarks and pleasantries.
• In the Paris, Las Vegas, you will find the most memorable sights of Paris including the Arc de Triomphe, the Paris Opera, and the Louvre. There are also French themed nightclubs, restaurants, and bars.
• The exact replica of the pyramids of Giza is in Las Vegas. Makes someone wonder, why visit Egypt?
• The Pyramid Hotel Las Vegas looks exactly like the pyramids of Giza. It is as tall as the real pyramids and it could even have been taller if it could not have been near an international airport.
• The Pyramid Hotel is a real world wonder. Its gargantuan size, incredibly bright Luxor light and black pyramid glass give it a majestic appearance. That is why it usually a constant feature in Las Vegas documentaries.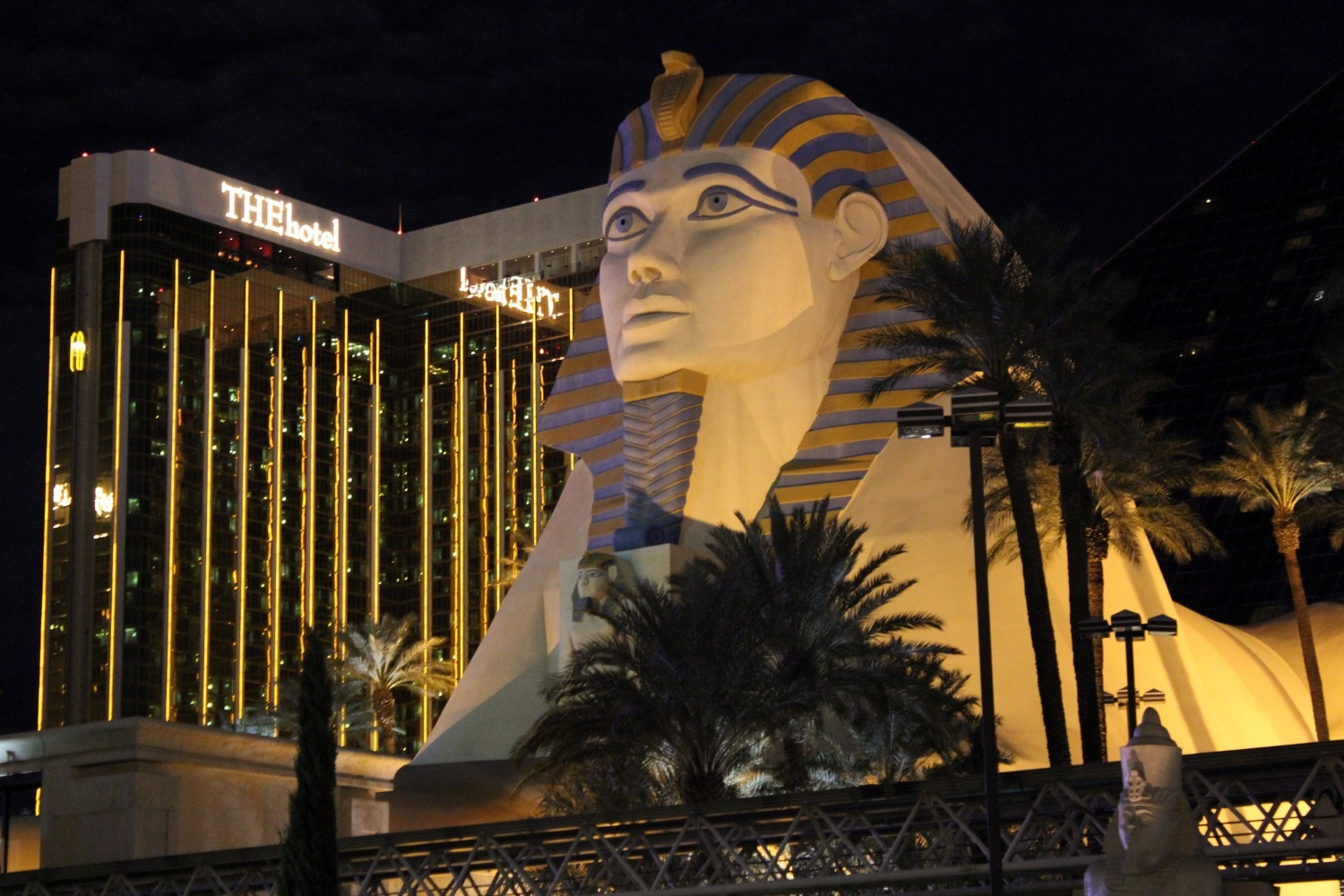 • Are you thinking of going to Venice? Why not start by visiting the Venetian Las Vegas. If you have ever been to Venice and you visit this property, you will agree that there is a stark resemblance between the two. In both cases, there are the Gondola rides, the Grand Canal, Venetian cuisine, and living statues. The closest replica of Venice is the Venetian Las Vegas.
• Another popular name of Las Vegas is the "ninth Island of Hawaii." Thus, if you love Hawaii and you are in Vegas, it is your home far away from home.
2. A Visitor's Paradise
The chief reason for the existence of Las Vegas is to satisfy the needs of visitors. It does so in spectacular fashion. Las Vegas takes the best of other top cities and makes them bigger, flashier, and grander.
Visitors in Las Vegas will enjoy:
• High-end dining
• Great drinks
• Night clubs
• Spas
• Specialty retail
• Resorts
• Gambling
• Nature and the outdoors
• Adventure activities
• Museums and art
• Theme parks
• Water sports and activities
• Amusement parks and rides
• Golf- Las Vegas has four golf courses
• Theatre
• Parks- Las Vegas has 68 parks
• Sports- Las Vegas has 109 skate parks, 10 football fields, six swimming pools, 23 softball fields, 44 soccer fields, 6 community centers, 123 playgrounds and four senior centers
• Among other activities
To cater for the needs of visitors, there are high-end facilities like:
• Encore
• Wynn
• Palazzo
• Venetian
• Bellagio
• MGM Mirage
• Take a Break Travel Las Vegas Wyndham Hotel
• City Center- a $7 billion multi-use project
• Among others
3. The Gambling Capital of the World
Las Vegas, Nevada:
A city of slot machines, this is a city where oddities do not make you lame. Instead, they bring you fame and fortune.
Las Vegas has the largest strip of land-based casinos in the world. Las Vegas is the original casino resort. It is the cathedral of gambling. When most people think of casinos and gambling, they think of Vegas.
• The center of the gambling industry is the Las Vegas Strip. The most notable casinos in the world are located there.
• The biggest casinos in Vegas are:
-Casino at Bellagio
-Paris Las Vegas
-Wynn Las Vegas Casino
-Palazzo Resort Casino
-The Cosmopolitan Casino
-Casino at the Venetian
-Casino at the MGM Grand
-Casino Royale
-Casino at Mandalay Bay
-Casino at Luxor Las Vegas
-Ellis Island Casino
-Red Rock Casino
-O'Sheas
-Casino at Caesars Place
-Planet Hollywood Casino
-Casino at Aria Resort
-Casino at the Hard Rock Hotel
-Casino at Encore
-Bally's
• Legalization of casino gambling in Vegas happened in 1931. That year also marked the beginning of the construction of the Hoover Dam that is partly in Vegas. In 1931, the Las Vegas state also reduced the residency requirement for divorce to six weeks.
4. The Boiling Pot of Entertainment
Las Vegas is a city that is completely dedicated to the idea of entertainment. The entertainment capital of the world is Vegas. It is the city of the nightlife.
• In Vegas, sleep is a mere inconvenience interrupting the continuous stream of fun and entertainment. In Las Vegas, everything is flashier, louder, and bigger.
• Las Vegas is a 24-hour city. In Vegas, the entertainment never stops.
• Las Vegas is one of the world's most visited cities. It is a popular setting for music videos, TV programs, films, and literature.
• Las Vegas has many entertainment venues including T-Mobile Arena, The Axis, Las Vegas Festival Grounds, The Coliseum, and MGM Grand Garden Arena.
• Many famous artists usually perform in Las Vegas. Frank Sinatra and Elvis Presley performed many times in Las Vegas. In recent times, they have been shows graced by the likes of Elton John, Mariah Carey, and Britney Spears.
• You will find lounges, theaters, and nightclubs in Vegas. If you are a fan of magic, you might witness Chris Angel of Mind Freak performing in Las Vegas.
5. Las Vegas- The City of Parks & Natural Attractions
Beyond the glitz and the glamour, you will find the parks and natural attractions of Vegas including:
-Red Rock Canyon National Conservation Area
This is popular because of great hiking trails and world class rock climbing. It has intriguing and highly photogenic rock formations.
-Lake Mead National Recreational Area
Lake Mead offers a way to escape the heat. It is great for water sports.
-Valley of Fire State Park
This is Nevada's oldest state park. It is a grand geological park.
-Sunset Park
The most distinguished park in Las Vegas is Sunset Park. It offers something for everyone.
6. Do Not Leave Vegas before Seeing the Fountains of Bellagio
During its launch, the Bellagio Fountain was the largest water fountain in the world. The Okada Manila and the Dubai Bay Fountain latter surpassed it. The Fountains of Bellagio is a sight worth seeing when you are in Vegas. Bellagio Resort owns and operates these fountains.
This is an iconic Vegas attraction. The Bellagio Fountains is one of the free Vegas attractions. The fountains are on an 8-acre manmade lake serviced by a freshwater well. There are more than 4,500 lights and a network of pipes with over 1,200 nozzles. Four types of nozzles including 16 extreme shooters, 798 shooters, and 208 oarsmen facilitate the different unique effects.
Before the water show starts, the nozzles start breaking the water surface. Then, the lights illuminate the Bellagio Resort tower and it turns to a purple color. The fountain display is accompanied by different pieces of music including "God Bless the USA" by Lee Greenwood, "My Heart Will Go On" by Celine Dion, "Viva Las Vegas" by Elvis Presley, " The Sound of Silence" by Disturbed, "Luck Be a Lady" by Frank Sinatra, and "Time to Say Goodbye" by Andrea Bocelli, among other songs.
The Fountains of Bellagio is a spectacular show of thoughtfully interwoven light, music, and water. This show will romance your senses. It takes place in front of the Bellagio Resort and is visible from various points on the Las Vegas Strip.
From 3 pm to 8 pm, the show takes place every 30 minutes. From 8 pm to midnight, it takes place every 15 minutes.
7. Do Not Fail To Visit Downtown Las Vegas
Most of the places you will visit will be on the Las Vegas Strip. However, you should also make a point of visiting downtown Las Vegas. There are many great things that you will see their including:
• The Freemont Street Experience – This is at the heart of downtown Las Vegas. Freemont Street gets its name from John C. Freemont who was one of the earliest explorers of Vegas.
• Freemont Street is a canopied five-block area. From dusk until midnight, it features over 500,000 watts of sound and more than 12 million LED lights. Shows happen at the beginning of every hour.
• Freemont Street also has great museums including Neon Museum, Mob Museum, and Discovery Children's Museum. There is also The Smith Center for the Performing Arts.
8. New Year's Eve, Las Vegas
The Las Vegas Strip is a popular New Year's Eve celebration destination. Las Vegas, the city of lights, usually excites on New Year's Eve. Along The Strip, festivities begin with dinner, drinks, and dancing. If you stay up late on New Year's Eve, you will see the midnight fireworks on the rooftops of The Venetian, Caesar's Palace, and the MGM Grand.
New Year's Eve in Vegas is simply crazy in a good way. The busiest time in Las Vegas is New Year's Eve. During this occasion, there is live music, incredible firework shows, special menus, parties, concerts, and other incredible pleasantries.
9. The Bellagio Conservatory & Botanical Garden
This is another Vegas attraction courtesy of the Bellagio Resort. It is next to the lobby of Bellagio Resort and is open to the public.
This is a place worth visiting if you are a nature enthusiast. It has five seasonal themes: winter, fall, summer, spring, and the Chinese New Year.
The Chinese New Year theme features from January to mid-March. Its highlights include flowers such as orchids and bromeliads. It also features the animal of the current year of the Chinese Zodiac calendar.
The spring theme starts from March to May. It features different tropical flowers and a butterfly house. During Memorial Day weekend, the conservatory adopts an all-American summer display that usually features several American flags and a large recreation of the Liberty Bell. The summer display is normally very patriotic. Autumn display starts in late September and winter display comes after it.
10. Fine Dining Las Vegas
Fine dining does not get better than in Las Vegas. The following are the top fine dining restaurants in Vegas.
Italian and Mediterranean Cuisine
• Carbone, Aria
• Estiatorio Milos, Cosmopolitan
• é by José Andrés, Cosmopolitan
• Ferraro's Italian Wine Bar & Restaurant, 4480 Paradise Road
French Cuisine
• Le Cirque, Bellagio
• Joël Robuchon, MGM Grand
• L'Atelier de Joël Robuchon, MGM Grand
• Twist by Pierre Gagnaire, Mandarin Oriental
• Restaurant Guy Savoy, Caesars Palace
• Picasso, Bellagio
Asian Cuisine
• Mr. Chow, Caesars Palace
• Raku and Raku Sweets, 5030 W. Spring Mountain Road
• Yui Edomae Sushi, 3460 Arville Street
• Lotus of Siam, 953 E. Sahara Avenue
• Wing Lei, Wynn Las Vegas
Steak
• Prime Steakhouse, Bellagio
• Carnevino, Palazzo
• Bazaar Meat, SLS
Modern American
• Sage, Aria
• Michael Mina, Bellagio
11. The World's Tallest Chocolate Fountain
You will find this in Jean Philippe restaurant in Las Vegas. This chic French café and bakery usually draws crowds because of its chocolate fountain and pastries. Jean-Philippe Maury is an award-winning pastry chef. He has three pastry shops in the US.
12. The Vegas Experience is about Spectacular Hotel Rooms and Extravagant Public Places
In Vegas, it is more than having a bed, gambling, and boozing. It is about the Vegas experience. Take a Break Travel Las Vegas Wyndham Hotel will give you more than just a place to lay your head after a busy day touring Las Vegas. It will give you a spectacular hotel room with all the latest state of the art amenities.
Take a Break Travel Las Vegas Wyndham Hotel has the following:
• Large fully equipped rooms
• Great views of the Strip and other parts of Las Vegas
• A quiet and tranquil environment
• Well maintained rooms
• Top notch amenities
• Comfortable rooms
• Amazing customer care
• Business friendly amenities
• Among others
The Bottom-Line:
Lavishly decorated hotels, big-name entertainment, great outdoor activities, fine dining, and luxurious casinos; these things make Las Vegas one of the greatest cities on Earth.
With everything that Las Vegas has to offer, it is a top tourist destination. Every year, Las Vegas receives more than 40 million visitors.