Pizza Brain Hosts First Museum of All Things Pizza
Sometimes, it's all about the atmosphere. You go somewhere not just for what you find there, but for you feel there. Museums, countries, cafes, theatres and so on, all drawing you with that something special. Pizza Brain in Philadelphia takes pizza to a whole new level as it is not only selling it, but also housing the first museum dedicated to pizza.
"It's a pizza shop that's a shrine to pizza," said Brian Dwyer, one of the four partners which started the museum. I liked this quote 😉
Also worth mentioning is that Pizza Brain has the world's largest collection of pizza memorabilia – the photo in this article is from the event which recognized that from their Facebook page.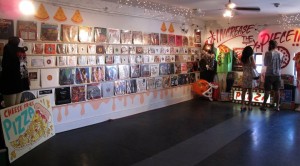 This shop includes also, as mentioned in The New York Times article, "a double-deck gas-fired oven, the shop integrates exhibits of pizza toys, video clips, albums and movie posters with a menu of both standard pies and artisanal varieties like "homestyle meatloaf" (a combination of kobe beef and wild boar)".
Pizza is famous in many parts of the world, and people from different countries enjoy eating one once in a while. I admit that I think this museum's idea (opened in September 2012) is a very interesting one.
"When it comes to pizza in America, everyone has this story that they are bringing to the table," added Mr. Dwyer. "All we are doing is creating a place where you can revisit that story."