The Best Ways For Travellers To Avoid Crowds in Bangkok
Bangkok is an exciting, vibrant place to visit but sometimes the crowds can get a bit much. What is the best way to enjoy the benefits of this lovely destination whilst avoiding the crush, reducing queueing times and still experiencing the best of  Thailand's capital?
Timing Your Visit
Bangkok is extremely popular all year round and there are events and attractions at just about any time. There are, however, certain times of year that are particularly busy. If you want to avoid the worst crush then never visit between November and March, although you should also be wary of the summer months June and July, which see a second surge of tourists and visitors. There are lots of Christmas and New Year events in the city as these are popular travel times and whilst they are beautiful and worth seeing, it is certain that the crowds will be substantial.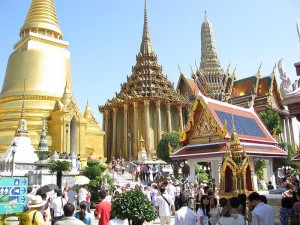 The Temple of the Emerald Buddha in Phra Nakhon, Bangkok, Thailand, photo by Aimaimyi
The least crowded Bangkok holidays are to be found during the rainiest seasons, April to June and September to October, although visitors during the latter would be advised to prepare for some potential flooding. Pack your wellies! When you arrive timing can be key too as many of the most popular attractions are busiest at weekends, so arrange to see the normal tourist attractions midweek if you can manage it and early in the day before most tourists descend and the day gets hotter.
Tips When You Get There
Preparing for Bangkok holidays requires a bit of planning for when you get there and the best thing you can do to prepare is simple – take a map! Being able to see which other roads link to the one you need to get to can save you hours and taxi drivers are notorious for getting lost, so being able to help find a route will save you time in the traffic jams AND money! When you want to go shopping, the market places are amazing, but if you want a less crowded experience then there are several indoor, air conditioned shopping malls, which tend to have less people in and could give you a breather.
Taking the skytrain can be crowded in itself, especially at rush hour, so weigh up the benefits of taking it and being a little packed in versus taking a cab or tuk-tuk through the city and potentially being caught in traffic for quite some time. There are two lines and the skytrain covers much of the city, making it cheap and convenient to get around.
A nice calm way to travel is taking the Chao Phraya Express boat on the Chao Phraya river, which runs as a general transportation business and again is crushed at rush hour but also has a blue boat set aside for tourists which tends to be a bit less packed and stops at various tourist attractions along the way.
Bangkok is a busy place, no doubt about it. It is also exciting, a great deal of fun and with a bit of forethought you can breathe a little easier and occasionally enjoy some personal space! No matter what time of year you go, or what you do when you are there you are certain to love this colourful, amazing city.
Authos bio: Rosette enjoys writing about Bangkok holidays for a variety of travel blogs and websites. She is an expert at avoiding crowds, but loves the thrill of large cities. In her spare time she goes hot air ballooning then snuggles up with a book and a hot water bottle.