A Couple Travelers' Unforgettable Experience: Sunset in Cambodia
This is the first feature in the new series on this blog: travel bloggers share their unforgettable travel experiences.
Vicky and I love sunsets – I mean, who doesn't. We saw perhaps the most spectacular one today while we were on a beach in Cambodia. Before we started traveling, I never watched the sunset – now I can't wait.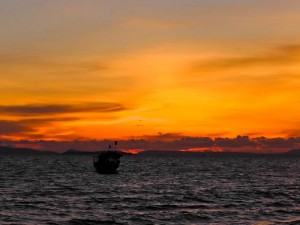 click on the photo for a larger view!
Read Vicky and Dave's A Couple Travelers' blog, and follow them on Twitter and Facebook.